DisplayPort to DL-DVI Cable Adapter
Enables ATI Eyefinity multiple-display, supports up to 6 displays

Connects DisplayPort output to a DVI-Enabled HDTV, Monitor or Projector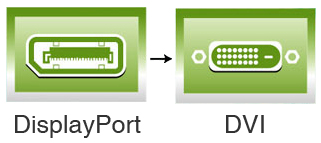 HIS DisplayPort to DL-DVI Cable Adapter works with either Dual-Link or Single-Link digital connections. Simply connect the DisplayPort end of the connector to ATI Eyefinity-compliant graphics card, and plug your existing display into the DVI adapter. The built-in USB connection provides power to the cable adapter.
ATI Eyefinity Technology - Experience the Power of 6!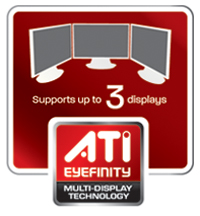 To enable more than two displays, additional panels with native DisplayPort™ connectors, and/or certified DisplayPort™ adapters to convert your monitor's native input to your cards DisplayPort™ or Mini-DisplayPort™ connector(s), are required.
ATI Eyefinity technology requires one panel with a DisplayPort connector to enable the third display. DisplayPort to DVI dongle is required for panel with DVI connector.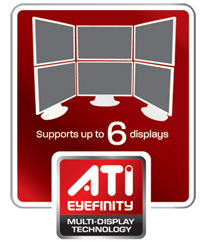 ATI Eyefinity technology can support up to 6 displays using a single enabled ATI Radeon™ graphics card with Windows Vista or Windows 7 operating systems - the number of displays may vary by board design and you should confirm exact specifications with the applicable manufacturer before purchase. ATI Eyefinity technology works with games that support non-standard aspect ratios, which is required for panning across multiple displays.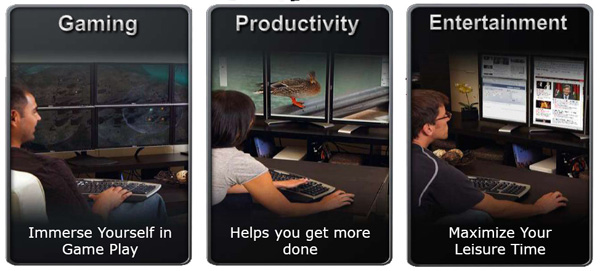 Prepare to experience riveting high-definition gaming with ATI Eyefinity graphics card, expand your visual real estate across up to 6 displays and get lost in the action with revolutionary ATI Eyefinity Technology.
Post your comment
Comments will be reviewed by the editors before being published, mainly to ensure that spam and irrelevant material are not published . Please feel free to comment!
We strongly encourage you to use your real name. E-mail addresses are required in case we need to follow up with you directly. We won't publish your e-mail address unless you request.

Back