HIS 7850 IceQ X 2GB GDDR5 PCI-E DVI/HDMI/2xMini DP

Product Code
H785QN2G2M
EAN Code
4895139007138
Cooler
IceQ X
GPU
7850
Core Clock
860 MHz
Memory Clock
4800 MHz
Memory Size
2048 MB
Memory Type
GDDR5
Memory Interface
256 bit
Interface
PCI Express 3.0 x16
Card Dimension
14.3 X 4.2 x 23.5 cm
Box Dimension
33.9 x 19.3 x 10 cm
Availability
IceQ X – Cooler, Quieter
Cooler
IceQ X is cooler than the Reference Cooler.
Thanks to the 9.2cm silent fan, massive amount of cool air is drawn from the central fan to cool down the GPU and graphics card directly. 2 heatpipes optimize cooling performance by removing heat from the core area, providing ultimate solution for professional gamers and HTCP users.

Quieter
IceQ X is one of the quietest coolers. The card is below 28dB when watching movies, surfing Facebook, working. The card is quiet in 2D mode and remains quiet whether you are gaming, online socializing, entertaining or working.
High Quality Components
HIS uses only the finest materials and the most advanced techniques to build our cards, making them one of the most stable and durable product in the industry.

Dynamic Phase Control PWM IC
The advanced energy saving technique not only makes HIS cards environmental friendly but also saves money on your electric bills!
Full Solid State Capacitors
These capacitors of the excellent quality and durability extends the lifespan of the card.
You can count on HIS cards to game hard for 24/7/365 for years!
Solid State Choke
Using these innovative material, HIS cards offer outstanding stability and power capacity -making the best out of power and unleashing clock speeds to the limit!
New Design, New Experiences
PCI-e 3.0 Support
Armed with the latest PCI-e 3.0 bus design maximizes performance by delivering double bandwidth per lane of PCI-e 2.x. Paired the card with the latest platforms and get the ultimate performance!
More Graphics, Less Power
Optimized Power & Performance
The new architecture of the card gets more usable processing power for your money, enabling better frame rates in the latest games at high resolutions. In addition, with AMD PowerPlay™ & AMD PowerTune technologies, you can optimize the balance between performance and power consumption of your system by adjusting the engine clock during runtime of the card. Manage the power and keep your wallet loaded!
See More, Win More!
The card is capable to turn your computer into a super gaming machine. Enjoy the latest 3D games with stunning graphics and effects that your enemies cannot match! Get an immersive experience with AMD Eyefinity "2.0"!
Expand your game across up to 4 displays while your opponents have one monitor. Along with all-new support for stereo 3D, universal bezel compensation and brand new display configurations, take the unfair advantage over your opponent and win more with the surround sight
Game Better & Faster

Game Better & Faster
With full Microsoft DirectX® 11.1 support, the card is ready for next generation DirectX games. Equipped with AMD HD3D technology, you can enjoy a stereo 3D experience in the latest 3D games. The card also offers up to 2x faster tessellation and faster DirectCompute over earlier cards. Gamers will be pleased to enjoy the life-like graphics!
Sounds Better
Output protected high bit rate 7.1 channel surround sound over HDMI with no additional cables required, heightening the sense of reality!
See Better, Enjoy Better!
The card supports 30" LCD monitor and any large size TV up to 80" feature with 16:9 ratio in amazing 4096 by 2160 resolution. Up-scaling your computer into a multimedia center with the biggest display!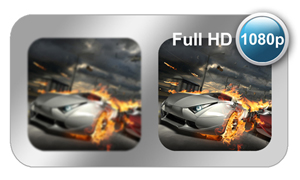 Enjoy HD Beauty
With Full HD 1080p support, the card delivers high quality 1920X1080 graphics, enabling seamless full-screen video playback. See HD, hear HD and feel HD - Enjoy the beautiful graphics now with the card!
Enjoy Copy Protected Movies
The card is HDCP complaint, enabling users to play copy-protected content, such as commercial DVD movies.
Enjoy True to Life Graphics
Quad HD videos have resolution four times that of current HD videos, meaning images too clear that may deceive your eyes! With the card, you are set for getting the movie theater experience to your home. You may be able to watch a video shooting the Eiffel tower and zoom it in to see your friend's face clearly from the top! Get your eyes impressed and enjoy mind-blowing graphics with extreme clarity, depth and texture!
View More, Work Better
Having one dedicated screen just for twitter or Facebook and a second for outlook is not a dream anymore. The card features 2 Mini-display Ports for enhanced workspace flexibility. You can easily connect to two displays, including the 27" Apple LED Cinema Displays with the two Mini DisplayPorts. The dual-link DVI port allows you connect to a 30" DVI display up to 2560x1600. Resolution can even reach 4096x2160 with HDMI 1.4a that are good for TV up to 80"!
HIS Products Advantage
HIS delivers Faster, Cooler, Quieter plus the best quality product!
Professional customer service and technical support
What's in the box
HIS Graphics Card
CrossFireXTM Bridge
DVI-VGA Adapter
Install CD with Multilingual User Guide
Quick Installation Guide
HIS Power Up Label
Model Name
HIS 7850 IceQ X 2GB GDDR5 PCI-E DVI/HDMI/2xMini DP
Chipset
Radeon HD 7850 PCIe Series
ASIC
RadeonTM HD 7850 GPU
Manu. Process (Micron)
28nm
Memory Size (MB)
2048
Memory Type
GDDR5
Engine CLK (MHz)
860MHz
Memory CLK (Gbps)
4.8Gbps
Memory Interface (bit)
256bit
Power Supply Requirement

500 Watt or greater power

Max. Resolution
4096x2160 per display (DisplayPort 1.2)
2560x1600 per display (Dual-link DVI)
2048x1536 per display (VGA)
Bus Interface
PCI Express 3.0 x16
Mini Display Port
Yes
HDMI
Yes
DVI
Dual-link DVI-I
VGA
No
HD 7850 System Requirement
PCI Express® based PC is required with one X16 lane graphics slot available on the motherboard
500W (or greater) power supply with one 75W 6-pin PCI Express power connector recommended
600W power supply (or greater) with two 75W 6-pin PCI Express power connectors recommended for AMD CrossFire™ technology.
Certified power supplies are recommended. Refer to http://ati.amd.com/certifiedPSU for a list of Certified products
Minimum 4GB of system memory
8GB (or more) of system memory recommended for AMD CrossFire™ technology
Installation software requires CD-ROM drive, a keyboard, a mouse, and a display
DVD playback requires DVD drive and a DVD
Blu-ray™ playback requires Blu-ray drive and a Blu-ray disc
For an AMD CrossFire™ system, a second AMD Radeon™ HD 7850 GPU, an AMD CrossFire™ Ready motherboard and one AMD CrossFire™ Bridge Interconnect cable is required
Use of 3 or more displays with AMD Eyefinity technology requires a DisplayPort-capable panel or an AMD Eyefinity validated dongle. See http://www.amd.com/EyefinityDongles for a list of validated DisplayPort dongles.
64-bit operating system highly recommended

March 2th, 2013 at 04:36 am
By Dino De Jesus
Nice card, can handle any task I put it through! and can handle games at 1080p ultra settings!
December 7th, 2012 at 12:36 pm
By Palash
it is the best graphic card in mid range , not even one lag i have ever experienced in my gaming on full HD, it is highly recommended
October 14th, 2012 at 03:28 pm
By John Zhu
好恐怖,散熱好 穩定這些就不要說了,相信以後就是HD7xxxx的天下了
Post your comment
Comments will be reviewed by the editors before being published, mainly to ensure that spam and irrelevant material are not published . Please feel free to comment!
We strongly encourage you to use your real name. E-mail addresses are required in case we need to follow up with you directly. We won't publish your e-mail address unless you request.






HIS has won over 1700 awards with AMD graphic solutions from major media worldwide.

" +very good overclocking potential
+great performance
+high performance cooling system" EasyCOM - The Choice of Overclockers

Back