HIS Multi-View USB 3.0 to 4K DP Adapter

Product Code: HMV4KDP

EAN Code: 4895139010145

Product Dimension: 12.4 x 5.5 x 1.7cm

Giftbox Size: 16.7 x 14 x 4.1 cm

Giftbox Weight: 0.18kg
The USB 3.0 to 4K DisplayPort Adapter is a device which enables connection to 4K Ultra HD display device to a computer using USB 3.0 port. It will make your legacy PC with old graphics card to support 4K resolution easily. Besides, with this convenient design, it can connect up to 6 display devices to a computer without installing extra video cards. Once the driver has been installed, the USB-attached monitor will be enabled immediately without any rebooting process of operating system after plugging the USB adapter. System performance is an important issue when using multiple monitors. Another benefit of this adapter is that it occupies little computer resource; ensuring users get quality display without comprising computer performance.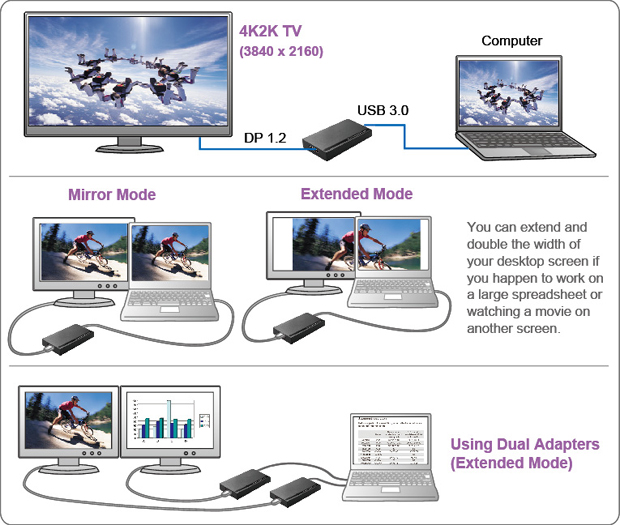 See More, Enjoy More!
You can have one dedicated screen with multiple windows opening with stocks news, excel files, charts, FaceBook in a large 4K display monitor. The HIS Multi-View USB 3.0 4k DisplayPort displays up to 3840×2160@30Hz. 2560×1600, 2560×1440, and all lower modes will refresh at 60Hz. You can now enjoy a biggest 4K display with your tablet or notebook.
Supports DisplayPort displays up to 3840×2160@30Hz. 2560×1600, 2560×1440, and all lower modes will refresh at 60Hz. Note: if using this device with a 4K HDMI display, an HDMI 1.4-compliant "active" adapter must be used. Active adapters that only support HDMI 1.3 as well as all passive adapters will limit output to 2560×1440 in most cases.
View More, Work Better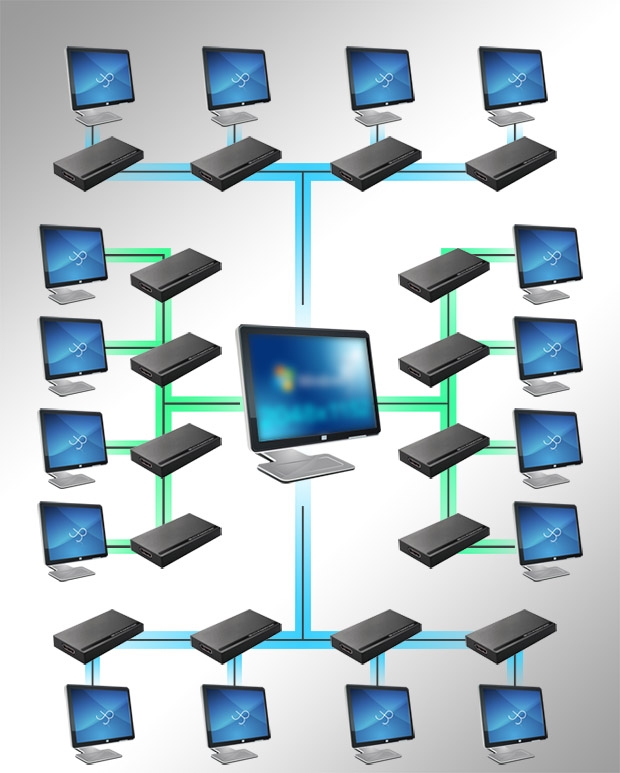 Simply connect any PC or notebook with HIS Multi-View USB 3.0 to 4K DisplayPort adaptor to an external monitor anytime and your tablet or notebook to become multiple screen working station! Now you can enjoy even connect up to 16 monitors in high resolution 3840x 2160(4k) to your notebook or desktops. Each additional monitor need one HIS Multi-View USB 3.0 to 4K USB adaptor.
Connect up to 16 total monitors with resolutions as high as 3840×2160 (4K) to Windows-based laptops or desktops (one adapter required per monitor).
Features
Supports High Resolution up to 3840x2160 Pixels
Backwards compatible with HD/Legacy monitors
Access to 4K Ultra HD displays for legacy PCs
Supports up to 16 USB display simultaneously
Extend and Mirror mode support
USB bus-powered
Package Contents
USB 3.0 to 4K DP Adapter
USB Cable
CD (Driver and User's Manual)
Quick Installation Guide
System Requirements
Operating Systems: Windows® 7/ Windows® 8/ Windows® 8.1
Connector

Host Interface

USB 3.0

Video Output

DisplayPort Connector

Host Upstream Link

USB 3.0 Micro B Type Connector

Connectivity

Up to 6 adapters on a computer

Power

Power Mode

Bus-powered

Power Consumption

Operating Mode: 370mA approx.

Video

Resolution

| | | |
| --- | --- | --- |
| 640x480 | 720x400* | 720x480 |
| 768x576 | 800x600 | 832x642 |
| 800x480 | 848x480 | 1024x600 |
| 1024x768 | 1152x864 | 1152x870 |
| 1280x720 | 1280x768 | 1280x800 |
| 1280x960 | 1280x1024 | 1360x768 |
| 1366x768 | 1368x768 | 1400x1050 |
| 1440x900 | 1600x900 | 1600x1200 |
| 1680x1050 | 1920x1080 | 1920x1200 |
| 2048x1080 | 2048x1152 | 2048x1280 |
| 2048x1536 | 2560x1440 | 2560x1600 |
| 3840x2160 | | |

Note that interlaced modes and reduced blanking modes are not supported.

Supported Display Mode

Extended Desktop (Default), Mirrored Desktop, Primary Display

Supported Operating System

Windows® 7, Windows® 8,
Windows® 8.1

Physical Properties

Housing

ABS (Plastic)

Color

Black

Dimension

75.5 (L) x 44 (W) x13.9 (H) mm

Weight

30.2 g

Working Environment

Operation Temperature

10~40 degree

Storage Temperature

-20~70 degree

Compliance

CE, FCC
* Specifications are subject to change without prior notice.
Post your comment
Comments will be reviewed by the editors before being published, mainly to ensure that spam and irrelevant material are not published . Please feel free to comment!
We strongly encourage you to use your real name. E-mail addresses are required in case we need to follow up with you directly. We won't publish your e-mail address unless you request.

Cofnij