HIS 7770 iCooler 1GB GDDR5 PCI-E DVI/HDMI/2xMiniDP

Cod produs
H777F1G2M
Cod EAN
4895139006841
Cooler
iCooler
GPU
7770
Core Clock
1000 MHz
Memory Clock
4500 MHz
Marime memorie
1024 MB
Tip memorie
GDDR5
Interfata memorie
128 bit
Interfata
PCI Express x16 (PCI Express 3.0)
Dimensiune placa grafica
12.5 x 4.1 x 21.2 cm
Dimensiune cutie
19.3 x 7.8 x 34.2 cm
Availability
The card is targeted at the mass market with competitive graphics performances at good value. The card is the first card in the world tuned at 1GHz clock speed, offering significantly higher speed than the previous generation.

If you are looking for the most advanced performance card that flawlessly runs games and delivers outstanding overall performances for playing movies, photo editing as well as daily tasks, the HIS 7770 iCooler 1GB GHz Edition is the perfect choice.
iCooler - Quieter
The card is equipped with the widely acclaimed HIS iCooler – certified by HIS that generates less than 28 dB in 2D mode. HIS iCooler provides an outstanding cooling performance and quiet environment. With HIS iCooler, the life span of the card is maximized while the noise level is minimized!
Quieter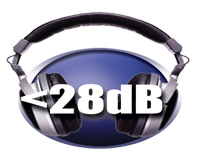 HIS iCooler excels in noise management. It's extremely quiet and noise level is less than 28dB in 2D mode - much lower than the original cooler on reference design. You feel the quietness when viewing photos, browsing webs and checking your email.
New Design, New Experiences
PCI-e 3.0 Support
Armed with the latest PCI-e 3.0 bus design maximizes performance by delivering double bandwidth per lane of PCI-e 2.x. Paired the card with the latest platforms and get the ultimate performance!
More Graphics, Less Power
The new architecture of the card gets more usable processing power for your money, enabling better frame rates in the latest games at high resolutions. In addition, with AMD PowerPlay™ & AMD PowerTune technologies, you can optimize the balance between performance and power consumption of your system by adjusting the engine clock during runtime of the card. Manage the power and keep your wallet loaded!
See More, Win More!
The card is capable to turn your computer into a super gaming machine. Enjoy the latest 3D games with stunning graphics and effects that your enemies cannot match! Get an immersive experience with AMD Eyefinity "2.0"!
Expand your game across up to 3 displays while your opponents have one monitor. Along with all-new support for stereo 3D, universal bezel compensation and brand new display configurations, take the unfair advantage over your opponent and win more with the surround sight!
Game Better & Faster
Game Better & Faster
With full Microsoft DirectX® 11.1 support, the card is ready for next generation DirectX games. Equipped with AMD HD3D technology, you can enjoy a stereo 3D experience in the latest 3D games. The card also offers up to 2x faster tessellation and faster DirectCompute over earlier cards. Gamers will be pleased to enjoy the life-like graphics!
Sounds Better
Output protected high bit rate 7.1 channel surround sound over HDMI with no additional cables required, heightening the sense of reality!
See Better, Enjoy Better
The card supports 30" LCD monitor and any large size TV up to 80" feature with 16:9 ratio in amazing 4096 by 2160 resolution. Up-scaling your computer into a multimedia center with the biggest display!
Enjoy HD Beauty
With Full HD 1080p support, the card delivers high quality 1920X1080 graphics, enabling seamless full-screen video playback. See HD, hear HD and feel HD - Enjoy the beautiful graphics now with the card!
Enjoy Copy Protected Movies
The card is HDCP complaint, enabling users to play copy-protected content, such as commercial DVD movies.
Enjoy True to Life Graphics
Quad HD videos have resolution four times that of current HD videos, meaning images too clear that may deceive your eyes! With the card, you are set for getting the movie theater experience to your home. You may be able to watch a video shooting the Eiffel tower and zoom it in to see your friend's face clearly from the top! Get your eyes impressed and enjoy mind-blowing graphics with extreme clarity, depth and texture!
View More, Work Better
Having one dedicated screen just for twitter or Facebook and a second for outlook is not a dream anymore. The card features 2 Mini-display Ports for enhanced workspace flexibility. You can easily connect to two displays, including the 27" Apple LED Cinema Displays with the two Mini DisplayPorts. The dual-link DVI port allows you connect to a 30" DVI display up to 2560x1600. Resolution can even reach 4096x3112 with HDMI 1.4a that are good for TV up to 80"!

The card is an ideal solution for all those who rely on having several applications visible simultaneously for extra productivity. Multi-tasking just got a lot simpler! Make your computer a multi-display workstation!
HIS PRODUCTS ADVANTAGE
HIS delivers Faster, Cooler, Quieter plus the best quality product!
Professional customer service and technical support
What's in the box
HIS Graphics Card
DVI-VGA Adapter
Install CD with Multilingual User Guide
Quick Installation Guide
HIS Power Up Label
Model Name
HIS 7770 iCooler 1GB GDDR5 PCI-E DVI/HDMI/2xMini DP
Chipset
Radeon HD 7770 PCIe Series
ASIC
RadeonTM HD 7770 GPU
Manu. Process (Micron)
28nm
Memory Size (MB)
1024
Memory Type
GDDR5
Engine CLK (MHz)
1000MHz
Memory CLK (Gbps)
4.5Gbps
Memory Interface (bit)
128bit
Power Supply Requirement

450 Watt or greater power

Max. Resolution
4096x2160 per display (DisplayPort 1.2)
2560x1600 per display (Dual-link DVI)
2048x1536 per display (VGA)
Bus Interface
PCI Express 3.0 x16
Mini DisplayPort
2x
HDMI
Yes
DVI
Dual-link DVI-I
VGA
No
HD 7770 System Requirement
PCI Express® based PC is required with one X16 lane graphics slot available on the motherboard
450W (or greater) power supply with one 75W 6-pin PCI Express power connector recommended
600W power supply (or greater) with two 75W 6-pin PCI Express power connectors recommended for AMD CrossFire™ technology in dual mode.
Certified power supplies are recommended. Refer to http://support.amd.com/us/certified/power-supplies/Pages/listing.aspx for a list of Certified products
Minimum 1GB of system memory
Installation software requires CD-ROM drive
DVD playback requires DVD drive
Blu-ray™ playback requires Blu-ray drive

December 10th, 2012 at 09:38 am
By pedro martinez
i think this card is great,and no. 1 in the mid range GHZ edition cards without breaking your pockets. i had ASUS,MSI Cards and it low power,and fast graphics,and very cool due its icooler this card rocks. in all of my games very noticed performance,and smooth,and quiet as a church mouse.I am a new HIS customer,and will recommend it to everyone plus its priced just right for a good video card.HIS keep up the good work.
Post your comment
Comments will be reviewed by the editors before being published, mainly to ensure that spam and irrelevant material are not published . Please feel free to comment!
We strongly encourage you to use your real name. E-mail addresses are required in case we need to follow up with you directly. We won't publish your e-mail address unless you request.






HIS has won over 1700 awards with AMD graphic solutions from major media worldwide.

"In our testing we see excellent noise results from the HIS HD 7770 iCooler, making it whisper quiet in idle and barely audible under load - a great improvement over the reference design. This actually makes it the quietest HD 7770 card we have tested so far. Good job HIS!" TechPowerUp - Highly Recommended Award

"Having finished all the tests it's now quite easy to see that the latest Radeon HD 7770 iCooler 1GB GHz edition by HIS is in fact perhaps the single graphics card around the £100 price range which I'd choose if i couldn't go any higher." The Last Resort - Bronze Award

"Where I was most impressed was actually the performance of the cooler. When I reviewed the Sapphire HD 7770 Vapor-X a little while back, I had a feeling it had a way overpowered cooler for what it was actually cooling, and after reviewing the HIS 7770 iCooler, I'm going to have to agree. There really wan't much of a reason other than aesthetics to go with a dual cooler solution considering the 7770 iCooler with a single fan is capable of getting around the same temperatures as the dual fan Sapphire HD 7770 Vapor-X even when overclocked. Noise wasn't too bad either as the iCooler was extremely quiet and would be a great choice for those looking to drop this card into a HTPC or any other application where silence isn't essential, but would be preferred." Custom PC Review - Awesome Award "Silver"


"With regards to overclocking, the HIS HD7770 1GB 1GHz Edition reached a very good overclock, at 145MHz past the 1GHz core clock speed. Very good for a low priced card. In terms of the results, the easily achievable overclock achieved on average around 8fps more in the game frame rates." HardwareLOOK - Silver Award

"HIS did a nice job with this product edition card as all variables are right in terms of perf for money - perf per watt, but also noise and heat levels. If you like to tweak a little, then there's plenty of headroom left. Grab an overclock utility of your choice, add a little extra voltage then that's where things get interesting. You might be able to get a cool 1200 MHz out of the GPU core. It was very similar to the reference product in terms of overclocking. But in combo with the custom cooler you'll keep the temps way more acceptable while you add another 15% to 20% performance." Guru3D "Great Value"

"If you are on a very tight budget and you are looking for the best price/performance ratio around the USD100 mark then the Radeon HD 7770 iCooler 1GB GHz Edition by HIS is the way to go." NiKKtech "Golden Award"

"This card a good solution for those who play casually and do not want to run at high resolutions ...although still is able to handle a very large part of the most current games. It is also a good solution for those who are building a HTPC..." Adrenline "Silver Product"

"The HIS 7770 is a unique card in that it really doesn't have much in the way of competition from Nvidia except for older generations. The HIS 7770 performs very well in most instances and can offer a decent upgrade option for those on a budget. It's not all about the budget for the card though, this card runs cool and quiet thanks to the cooler and fan, but it also requires only one external power connection, meaning it's not a very power hungry card. Chances are if you've got an older system you won't need to upgrade your power supply in order to get these latest generation video card. It truly is just a video card upgrade with the HIS 7770, it offers an excellent upgrade path from the last gen or older cards really without having to spend a lot of cash." Testfreaks "Recommended Product"
"While the HIS HD 7770 can hold its own in popular games, its strength lies in its new architecture, with its improved processing power and multimedia features. The improved processing power was really evident in the Heaven benchmark with its heavy tessellation." Christ Centered Gamer

"The iCooler HIS has put on the card keep it quiet and cool even while under load, so its a great card for an HTPC and playing some games on with reduced settings.. If you are a serious gamer and love your eye candy and 1080p resolutions, you have a good choice in the HIS HD 7770 with the iCooler." Overclockers.com "Approved"
"What makes the HIS HD 7770 offering more attractive, though, is the cooler which really is near silent. Against the HD 6800 series, the HIS iCooler version clearly wins out in that area." TweakTown

"The HIS HD 7770 iCooler 1GB GDDR5 Video Card Video has great bang-for-the-buck since it performs well in games, can be used for word or a HTPC setup. It's also capable of CrossFire which will improve gaming performance substantially. If you don't want to break the bank on a Video Card, this is a perfect option." 3D GameMan "Gameman's Pick"
"The HIS card does maintain lower temperatures and power consumption. It also performs respectably in games that feature more tessellation" PureOverclock "Good Hardware"

Inapoi