HIS 7850 IceQ 2GB GDDR5 PCI-E DVI/HDMI/2xMini DP (iPower)

Cod produs
H785Q2G2M
Cod EAN
4895139007787
Cooler
IceQ
GPU
7850
Core Clock
860 MHz
Memory Clock
4800 MHz
Marime memorie
2048 MB
Tip memorie
GDDR5
Interfata memorie
256 bit
Interfata
PCI Express 3.0 x16
Dimensiune placa grafica
29.7 x 14 x 4.4 cm
Dimensiune cutie
39 x 22 x 11.3 cm
Availability
iPower: More Voltage, More Overclocking!
Improved Power Supply Input
Increased Power supply input for more voltage for overclocking!
| | | |
| --- | --- | --- |
| | HIS 7850 IceQ | AMD 7850 Ref Board |
| Power Input | 6+6 | 6 |
| PWM Phase | 5+1+1+1=8 | 4+1+1+1=7 |
| Copper Layer | 2Oz | 1Oz |
IceQ– Cooler, Quieter
Crossfire Advantage
IceQ ensures effective cooling when there is another card in front blocking the fan inlet, such as in CrossFire setup.
By expelling the hot air, IceQ removes all the heat generated by the GPU out of the computer chassis, prevents the hot air from accumulating inside and enhancing the overall stability. The more crowded the chassis, the greater will be the impact.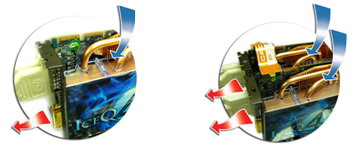 The demonstration shows that the IceQ does outperform the 3rd party cooler in closed environment. Cool air is drawn from both sides of the fan and hot air is forced out of the computer case. This ensures effective cooling when there is another card in front blocking the fan inlet, such as in CrossFire setup.

Black Hole Impeller
Black hole impeller ensures large amount of cool air is ready. It draws cool air from both sides of the fan even there is another card blocking the fan inlet on the front side of fan.
Cooler
The super large 57mm single blower fan draws massive amount of cool air to cool the GPU directly.

The fan is extremely durable with a life span of up to 50,000 hours!
2x 6mm plus 2x 8mm wide heatpipes optimize cooling performance by removing heat from the core area.
The extra large 115 x 94mm copper heatbase provides a 140 x 125mm large heat dissipation area.
The card also features fan control and fan monitoring, you are able to read fan speed & Asic temperature from CCC or software.

Quieter
IceQ is one of the quietest coolers, making the card 8dB quieter than the reference cooler. The card is below 28dB when watching movies, surfing Facebook, working. The card remains quiet whether you are gaming, online socializing, entertaining or working.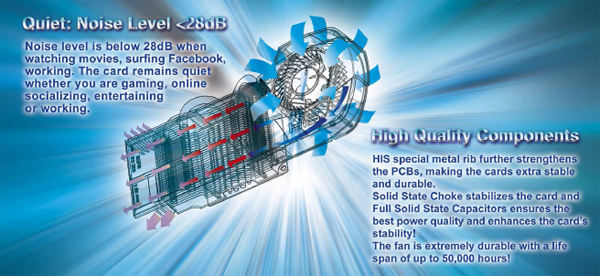 High Quality Component
OC Equipment
The card is equipped with improved power design which is great for OC! HIS cards utilize Dynamic Phase Control PWM IC to save power for better use. Along with improved power design, digital power design, 2 ounces Copper Layer, HIS cards make the best out of power, carrying better OC capability and pushing clock speeds to the full potential!

CrossFireX Ready
The card's is armed with Crossfire Connector, ready for CrossFire & multiplied performance!
Safer, Last Longer
Enhances stability in critical gaming situations!
HIS cards are engineered with the highest standard of safety, preventing them any potential damages. Solid State Choke stabilizes the card and Full Solid State Capacitors ensures the best power quality and enhances the card's stability in critical gaming situations!
Special Metal Rib
PCB might easily warped due to prolonged hanging on motherboard & casing, potentially causing cracks on BGA solder joints and resulting in malfunctioning of the card. The HIS special metal rib provides extra strength to the PCBs to avoid warpage, making the cards extra stable and durable. You can count on HIS cards to game hard for 24/7/365 for years!
Model Name
HIS 7850 IceQ 2GB GDDR5 PCI-E DVI/HDMI/2xMini DP
Chipset
Radeon HD 7850 PCIe Series
ASIC
RadeonTM HD 7850 GPU
Manu. Process (Micron)
28nm
Memory Size (MB)
2048
Memory Type
GDDR5
Engine CLK (MHz)
860MHz
Memory CLK (Gbps)
4.8Gbps
Memory Interface (bit)
256bit
Power Supply Requirement

500 Watt or greater power

Max. Resolution
4096x2160 per display (DisplayPort 1.2)
2560x1600 per display (Dual-link DVI)
2048x1536 per display (VGA)
Bus Interface
PCI Express 3.0 x16
Mini Display Port
Yes
HDMI
Yes
DVI
Dual-link DVI-I
VGA
No
HD 7850 System Requirement
PCI Express® based PC is required with one X16 lane graphics slot available on the motherboard
500W (or greater) power supply with two 75W 6-pin PCI Express® power connectors recommended
Certified power supplies are recommended. Refer to http://support.amd.com/us/certified/power-supplies/Pages/listing.aspx for a list of Certified products
Minimum 1GB of system memory
Installation software requires CD-ROM drive
DVD playback requires DVD drive
Blu-ray™ playback requires Blu-ray drive
The operation of AMD CrossFire™ technology in dual mode requires a second AMD Radeon™ HD 7800 Series graphics card and an AMD CrossFire™ Ready motherboard

August 1th, 2013 at 02:20 am
By Robert
Awesome card easy overclocking with iturbo user interface, it can run all the games that have at the highest setting including: Black ops 2 Highest, Starcraft II on ultra! Put this card together with a good cpu and you be playing every game on highest at atleast 50-60 fps.

Thanks His!
Post your comment
Comments will be reviewed by the editors before being published, mainly to ensure that spam and irrelevant material are not published . Please feel free to comment!
We strongly encourage you to use your real name. E-mail addresses are required in case we need to follow up with you directly. We won't publish your e-mail address unless you request.






HIS has won over 1700 awards with AMD graphic solutions from major media worldwide.

"+Good overclocking potential
+Great performance
+High performance and quite cooling system" EasyCOM - Excellent Cooling

Inapoi