HIS Multi-View x2 Adapter (USB 3.0 to HDMI & DVI for Window PC compatible version)

Product Code: HMVX2-MAC-PC

EAN Code: 4895139008203

View More, Work Better, Enjoy More with 2 Outputs!
Enjoy HD beauty with HDMI, Game Better!
New Technology, New Experiences with Superfast USB 3.0!

HIS Multi-View x2 features HDMI and DVI ports, allowing connection up to 2 additional displays. Maximum resolution is up to 2048 by 1152 resolution, high enough for any HD movie! Equipped with USB 3.0, transmission speed is 10 times faster than USB 2.0, boosting the image quality on large displays, as well as enabling enthusiastic gaming on multiple displays!
No matter you just want some extra screen area, watch HD movies with your computer or being an enthusiastic gamer, HIS Multi-View x2 is your perfect companion.
View More, Work Better

HDMI + DVI

HIS Multi-View x2 has one HDMI port and one DVI port, making connection up to 2 additional displays ridiculously easy. Having one dedicated screen just for Youtube or videos in full screen and a second for emails or Facebook is not a dream anymore. Simply connect any PC or notebook with USB 3.0/2.0 to an external monitor anytime and your notebook becomes a dual or triple display workstation!
DVI + DVI

The adapter comes with a HIS HDMI to Singlelink DVI-D Cable, allowing the DVI+DVI combination of the additional displays.
Supports up to 6 monitors
The adapter allows you connect up to 6 monitors, making it the ideal solution for all those who rely on having several applications visible simultaneously for extra productivity. Multi-tasking just got a lot simpler!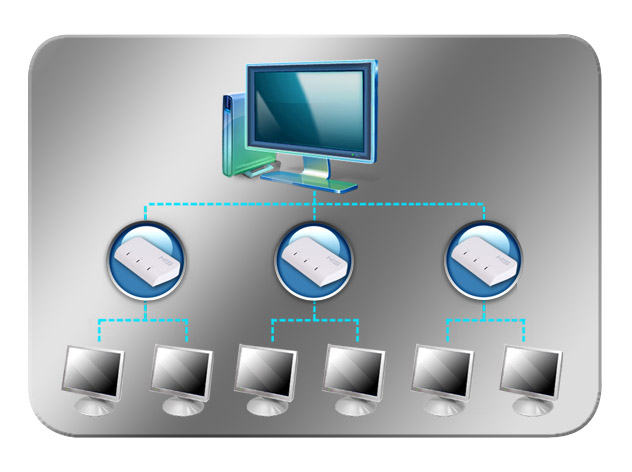 View More, Enjoy More
The HIS Multi-View x2 supports 27" LCD monitor and any large size TV up to 80" feature with 16:9 ratio in amazing 2048 by 1152 resolution, up-scaling your computer into a multimedia center with the biggest display!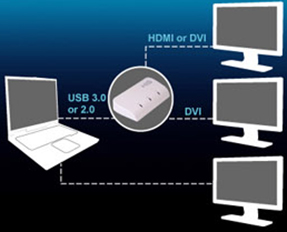 Enjoy HD Beauty
With Full HD 1080p support & HDMI Output, the device delivers high quality HDMI 1920X1080 graphics PLUS sound, enabling seamless full-screen video playback over USB. See HD, hear HD and feel HD - Enjoy the beautiful and crystal clear sound beyond the superb graphics now!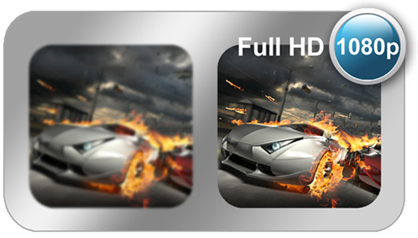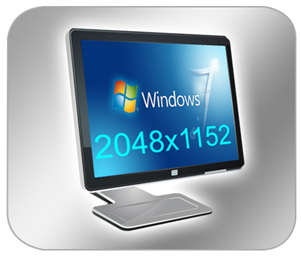 Enjoy Copy Protected Movies
HIS Multi-View x2 is HDCP complaint, enabling users to play copy-protected content, such as commercial DVD movies through the adapter.
Sounds Better
Supports both 2.1 and 5.1 channel audio, heightening the sense of reality!
Game Better and Faster
The HIS Multi-View x2 is also capable to turn your computer into an enthusiastic gaming machine, allowing users enjoy the latest 3D games with enhanced graphics and effects.
Game Better
Having Direct X 10 & 11 game support, HIS Multi-View x2 is in line with the latest 3D games.
Game Faster
Gamers will be pleased with the ability to achieve up to 60 FPS in various games to enjoy the maximum realism!
New Technology, New Experiences
Superfast USB 3.0
USB 3.0 has transmission speed of up to 5 Gbit/s, significantly reduces the time required for data transmission while at the same time reduces power consumption. Being 10 times faster than USB 2.0, HIS Multi-View x2 overcomes limited bandwidth for displaying on larger screen exists on USB2.0 interface. USB 3.0 is backward compatible with USB 2.0 so your old device will be able to communicate with the device without worries.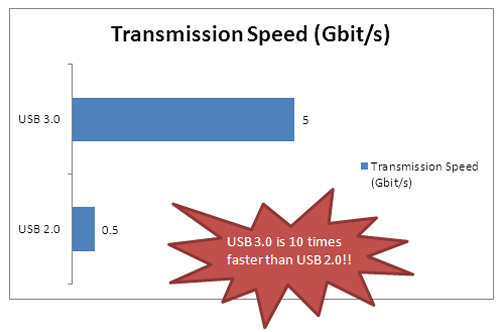 Product Features
- Add-on monitor, LCD or projector through a single USB 3.0 port hot-plug; add or remove monitor without system reboot
- Small in size, works with all VGA displays.
- Supports High Resolution up to 2048x1152
- Video streaming is supported up to 1080p
- Extend and Mirror mode support.
- Resumes from hibernation and suspend modes
- Supports up to 6 USB display adapters to work simultaneously
HIS Products Advantage
HIS delivers Faster, Cooler, Quieter plus the best quality product!
Professional customer service and technical support
What's in the box
Multi-View x2 Adapter
USB Cable
HIS HDMI to Singlelink DVI-D Cable
Install CD
Quick Installation Guide
System Requirements
The minimum requirements for the PC are:
- With Single Core CPU at 1.2GHz or higher processor clock. Intel® Pentium®/Celeron® family, or AMD® K6®/Athlon®/Duron® family, or compatible processor
- 512MB memory
- At least one USB3.0 port (*)
- 30MB of available disk space
- Super VGA (800 x 600) or higher resolution monitor
*Note: Although this adapter supports to connect to a USB 2.0 connector, the quality might be poor under high resolution display condition. In addition, this adapter does not support USB 1.0/1.1.
To play DVD on the adapter-attached monitor, except the requirements above, the following requirements should also be met:
- With dual core CPU at 2.0 GHz processor clock
- The adapter screen resolution be set to 800x600 with 32bit color. It is recommended to close all other unnecessary applications if the video playback is not smooth.
For 1-2 monitors, business usage, productivity target. This may not provide full frame rate DVD playback at full screen.
- 1.2GHz Single Core CPU
- 512MB memory
For 3 monitors, where 1 could run DVD video while also targeting productivity and business apps. Will support only 1 video of DVD resolution at full screen
- 1.6GHz CPU
- 1GB memory
For 6 screen where 1 screen can run full screen DVD video
- 1.8GHz Core Duo
- 1GB memory
Supported Operating Systems
- Windows XP® Home or Professional (Including Tablet edition) SP2 or SP3 (32-bit)
*Note: The adapter does not support Windows XP® 64-bit
- Windows Vista® SP1 or SP2 (32-bit or 64-bit)
- Windows 7® (32-bit or 64-bit)
Post your comment
Comments will be reviewed by the editors before being published, mainly to ensure that spam and irrelevant material are not published . Please feel free to comment!
We strongly encourage you to use your real name. E-mail addresses are required in case we need to follow up with you directly. We won't publish your e-mail address unless you request.





HIS has won over 1700 awards with AMD graphic solutions from major media worldwide.

"Pros:

-Small
-sleek size
-Extremely easy setup
-USB interface
-Affordable option for limited output systems

"If you're on the go and want to add another monitor when you get home, then any of these adapters are an easy way to do it. You don't need a graphics upgrade, you simply need an available USB port. It doesn't get much easier than that."

Pureoverclock – Good Hardware Award


"Pros:
• Easy installation and configuration
• Compatible with nearly every monitor up to 2048x1152
• Reasonable price
• Good video and audio quality"

"The HIS Multi-View adapters are something unique on our market. We do not often see any similar products and we cannot really find any competition to HIS Multi-View at the moment. Here comes the Muliti-View adapter with a USB connector which solves all of the issues with the lack of additional video outputs. The installation and configuration was really simple. Flawless, "plug and play" configuration is for sure a big advantage especially when you are moving with the computer frequently. A quick, one-time driver installation lets you easily connect to additional displays on any other workplace. "

"The HIS Multi-View adapters are great devices that I can recommend to everyone who needs to connect additional displays to their computer but lacks the additional outputs or graphics card functionality. With the HIS Multi-View, everyone can take advantage of larger workspace without spending much money."
Funkykit - Editor's Choice Award

Inapoi