HIS 6850 IceQ X Turbo 1GB GDDR5 PCI-E DP/2xDVI/HDMI

Référence
H685QNT1GD
Code EAN
4895139005004
Refroidissement
IceQ X
GPU
6850
Fréquence GPU
820 MHz
Fréquence mémoire
4400 MHz
Capacité mémoire
1024 MB
Type de mémoire
GDDR5
Interface mémoire
256 bit
Interface
PCI Express x16 (PCI Express 2.1)
Dimensions de la carte
13.5 x 4.2 x 23.5 cm
Dimensions du la boite
32.31 x 9.5 x 18.48 cm
Availability
A Propos de DiRT® 3™
Prévu pour 2011, DiRT 3 offrira plus de voitures, plus d'environnements, plus de tracés et plus d'événements qu'aucun autre jeu de la série. Ce qui fait plus de 50 voitures de rallye parmi les plus mythiques de ces cinquante dernières années et plus du double de courses que dans DiRT 2 !
Au fur et à mesure qu'ils progresseront dans leur carrière, les joueurs de DiRT 3 découvriront de nouveaux environnements : l'Europe, l'Afrique et les Etats-Unis. En marge des épreuves de rallye, ils devront également faire preuve de leur adresse au volant lors de shows faramineux où les voitures seront poussées dans leurs derniers retranchements.
Trailer Officiel de Dirt 3 (HD)
Système de refroidissement IceQ X

Plus rapide
Vos rêves d'Overclocking deviennent réalité !
Le Bios des modèles HIS IceQ X Turbo sont déjà overclockés en sortant de la boîte, et promettent donc aux gamers un potentiel énorme d'overclocking.

Moins de chaleur
La température des HIS 6850 IceQ X est d'au moins 13°C inférieure aux modèles de référence.
Grâce au ventilateur silencieux de 9.2cm, une grande masse d'air froid vient du ventilateur central pour refroidir directement la carte graphique et son processeur.
4 caloducs permettent d'optimiser les performances de refroidissement en dissipant l'air chaud de la partie centrale et ainsi apporter la solution de choix aux gamers professionnels et aux utilisateurs HTPC.


Plus silencieux
Les HIS 6850 IceQ X sont de plus de 7db plus silencieuse que les cartes de référence, une différence significative.
Des composants de haute qualité
Des composants et des techniques de haute qualité sont utilisés pour apporter plus de stabilité et une plus longue durée de vie au matériel.

Dynamic Phase Control PWM IC - Une technologie efficace d'économie d'énergie.
Solid State Choke (SSC) - Fer solide pour optimiser le courant, le rendement et la stabilité du système.
Condensateurs Solides - Allongez la durée de vie et la capacité de stockage des composants.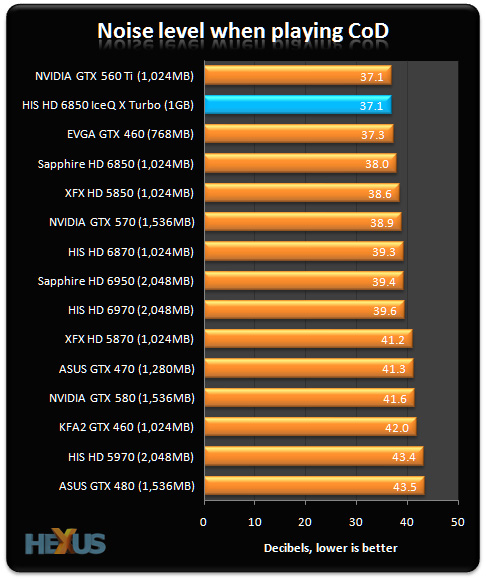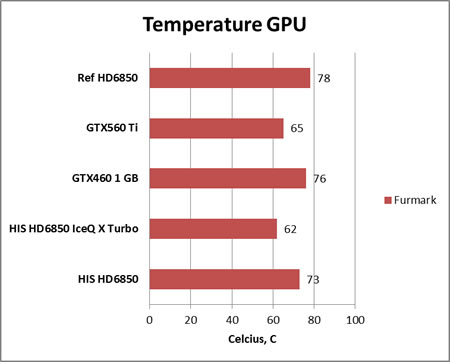 Immergez-vous dans l'ambiance de vos jeux grâce à la technologie AMD Eyefinity
Elargissez le champ de bataille de vos jeux préférés sur plusieurs écrans simultanément grâce à la technologie AMD Eyefinity.
Ajoutez et enlevez à votre guise et facilement les écrans supplémentaires.
Boostez votre productivité en disposant de toutes les informations dont vous avez besoin sous vos yeux, sur jusqu'à 4 écrans simultanément.
ourquoi choisir entre jouer, regarder un film et surfer sur le net alors que vous pouvez tout faire en même temps avec 3 écrans à disposition.

Connectez jusqu'à 3 écrans sur une seule carte graphique et étendez votre aire de jeu sur l'ensemble de ces écrans. Profitez d'une expérience incroyablement immersive grâce à cette capacité multi-écrans innovante. *

* Un écran avec un connecteur DiplayPort est nécessaire pour activer le troisième écran dans une configuration ATI Eyefinity. Un dongle DiplayPort-DVI est nécessaire pour les écrans avec connecteur DVI.
Profitez de graphismes exceptionnels « EyeDefinition » avec la technologie DirectX® 11.
Préparez-vous à jouer aux plus beaux jeux grâce à la seconde génération de cartes graphiques 100% compatibles DirectX® 11.
Grâce à un taux de rafraichissement éclair et des effets visuels ultra réalistes, profitez d'une expérience de jeu en HD époustouflante avec les AMD Radeon™ HD 6800.
Jouez à vos jeux préférés en full stéréo 3D, et profitez d'un gameplay incroyablement riche et interactif grâce à la technologie AMD HD3D.
Avec leur performance en tessellation hors du commun, les Radeon™ HD 6800 sont capables de vous apporter les détails graphiques que vous méritez.sellation performance, AMD Radeon™ HD 6800 Series graphics are designed to deliver the realistic detail that you deserve.
Accélérez les applications et profitez de vidéos incroyables avec la technologie AMD EyeSpeed.
Exécutez à plein régime les applications les plus exigeantes grâce à la Technologie de traitement parallèle avancé (APP). Faites-en plus, plus vite.
Profitez de vidéos en ligne et Blu-ray d'une qualité d'image incroyablement soignée grâce à la technologie d'accélération visuelle AMD EyeSpeed.
Grâce à la technologie AMD HD3D, profitez de la véritable qualité originale 3D Blu-ray.
Profitez également du Dolby TrueHD et de l'HDTV 3D des AMD Radeon™ HD 6800 pour récréer l'ambiance d'une salle de cinéma.
Vivez une expérience visuelle et audio renversante et inégalée grâce la technologie HD3D
Compatible avec les écrans/lunettes stéréo 3D
Jeux en Stéréo 3D
Compatible Blu-ray™ 3D
Compatible avec les logiciels tiers de 3D stéréoscopique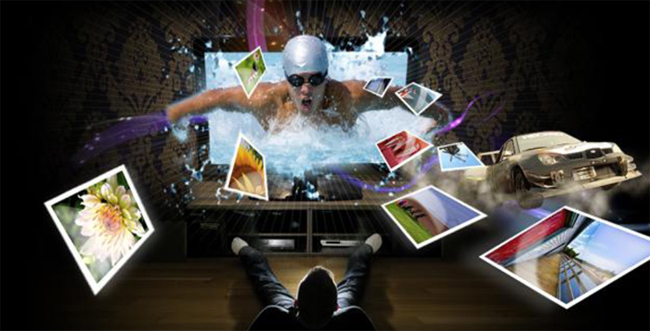 Avantages et caractéristiques des HD 6800
| | |
| --- | --- |
| Caractéristiques | Avantages |
| Prise en charge Microsoft® DirectX® 11 | La nouvelle architecture compatible DirectX® 11, prend en charge le traitement des modèles géométriques et améliore les performances graphiques de vos jeux : qualité d'image incomparable, effets 3D époustouflants, éclairage réaliste et images plus vraies que nature. |
| Technologie multi-affichage AMD Eyefinity | EImmergez-vous totalement dans l'ambiance de vos jeux grâce à la technologie multi-affichage AMD Eyefinity |
| Traitement Parallèle APP | Exécutez à plein régime les applications les plus exigeantes |
| Interface de Mémoire GDDR5 | Pour une bande passante plus rapide et plus large. |
| Technologie AMD CrossFireX™ | Améliorez les performances de vos jeux grâce à la technologie AMD CrossFireX™ |
| Architecture de traitement unifié TeraScale de 3e génération | Le Moteur TeraScale calcule les données plus rapidement pour les derniers jeux en date et les applications accélérées |
| Technologie 40nm | Permet d'accélérer la vitesse de calcul tout en utilisant moins d'énergie et un meilleur rendement des transistors que sur les générations précédentes |
| Transcodage Vidéo Accéléré | Pour un transcodage vidéo amélioré |
| Système flexible d'écrans multiples | Plus de flexibilité et une connectivité maximale pour s'adapter aux derniers écrans en date |
| HDMI 1.4 | Profitez pleinement de l'expérience Blu-ray et PVR à partir de votre PC |
| Support Master Audio Dolby®TrueHD et DTS-HD | Immergez-vous totalement dans les derniers films Blu-ray grâce au système audio haute-définition |
| Technologie de gestion de l'alimentation AMD PowerPlay™ | La consommation d'énergie dépend de l'activité du GPU. Lorsque celle-ci est faible, la consommation d'énergie est minimale |
| Décodeur Vidéo Universel (UVD 3) | Visionnez les plus beaux films Blu-ray, les vidéos en ligne et autres contenu HD en résolution 1080p ou plus, grâce à une carte silencieuse et de faible consommation utilisant l'accélération GPU et le Décodeur Vidéo Universel (UVD 3) |
50% de réduction sur le logiciel Tridef® 3D Experience pour l'achat d'une Radeon HD 6800
Le logiciel TriDef® 3D Experience permet de convertir la 2D en 3D à l'aide des cartes graphiques Radeon HD 6800.

Pour en savoir plus, rendez-vous sur http://www.hisdigital.com/un/news_show-140.shtml
Le Pouvoir d'HIS
Excalibur, symbole de la puissance du roi Arthur, de par son pouvoir mystique et sa beauté captivante apportait la victoire à son détenteur, combat après combat.
HIS brandit de nouveau l'épée légendaire pour les joueurs.

La légende renait… préparez-vous à conquérir le monde du jeu !
Les avantages des produits HIS
HIS vous garantit des produits plus rapides, plus silencieux, qui chauffent moins et d'une qualité supérieure !
Un service après vente et un support technique professionnels.
Contenu de la boîte :
Une carte graphique HIS
Un pont CrossFireXTM
2x Câbles d'alimentation
Un adaptateur DVI vers VGA
Un CD d'installation avec manuel d'utilisation multilingue
Guide d'installation rapide
Sticker HIS Power UP
Bon de téléchargement pour le jeu DiRT® 3™
(A partir de mi-juin jusqu'à épuisement des stocks)

| | |
| --- | --- |
| Modèle | HIS 6850 IceQ X Turbo 1GB GDDR5 PCI-E DP/2xDVI/HDMI |
| Chipset | Radeon HD 6850 PCIe Series |
| ASIC | RadeonTM HD 6850 GPU |
| Processus de fabrication (Micron) | 40nm |
| Quantité Mémoire (Mo) | 1024 |
| Type de Mémoire | GDDR5 |
| Fréquence (MHz) | 820Mhz |
| Mémoire CLK (Gbps) | 4.4Gbps |
| Largeur de bus (bit) | 256 |
| Alimentation requise | 500W minimum |
| Résolution Max. | 2560*1600 (Ecran Unique) |
| Interface du bus | PCI Express x16 |
| Display Port | Oui |
| HDMI | Oui |
| DVI | DVI-D single-link en haut+ DVI-I dual-link en bas |
| VGA | Via l'adaptateur DVI vers VGA fourni en bundle |
Système requis pour les HD 6850
PC avec port PCI Express ® comprenant un emplacement 16x et deux emplacements disponibles sur la carte mère
Alimentation 500W minimum avec deux connecteurs 75W PCI Express® 6-pin recommandée (une alimentation 600W et quatre connecteurs 6-pin pour une configuration AMD CrossFire ™ en dual mode)
Alimentations certifiées recommandées. Rendez-vous sur http://ati.amd.com/certifiedPSU pour obtenir la liste des produits certifiés
Mémoire système de 1Go minimum
Les logiciels d'installation nécessitent un lecteur CD, un clavier, une souris et un écran
Un lecteur DVD et un DVD sont nécessaires pour la lecture d'un DVD
Un lecteur Blu-ray ainsi qu'un disque Blu-ray sont nécessaires pour la lecture d'un film Blu-ray™
Une deuxième carte graphique AMD Radeon™ HD 6800, une carte mère prenant en charge CrossFireX™ ainsi qu'un pont CrossFireX™ sont nécessaires pour faire fonctionner un système AMD CrossFireX™ .
June 21th, 2012 at 12:08 am
By David
Yes I just bought this card and it rocks, very quiet and cool too.. Also not one of those large cards that you couldn't fit into your case either.. Just make sure you have 500 watt power supply or better...
May 29th, 2012 at 06:59 am
By Madeline
Delighted with this card. I am on my computer a great deal. surfing. doing business and many hours of working with Photoshop and Lightroom. It uses its memory well and is quite fast. And MOST IMPT to me. is that it really is quiet. I stayed away from any and all video cards with fans for many years and no matter how good their heat dissipation., they were hot. With this card it is quiet - even with the fan - and the card and the computer run cooler.
Madeline
July 9th, 2011 at 03:47 am
By Janne S
If you're looking for Radeon 6850, you may stop looking and order HIS 6850 IceX Q Turbo now. This card is very silent, requires only one PCI-E power connector. Performance is superb, running for example Furmark, it beats all other 6850 Series cards and challenges even some Radeon 6870 cards! You can't be dissatisfied with your purchase.
Post your comment
Comments will be reviewed by the editors before being published, mainly to ensure that spam and irrelevant material are not published . Please feel free to comment!
We strongly encourage you to use your real name. E-mail addresses are required in case we need to follow up with you directly. We won't publish your e-mail address unless you request.

Retour