HIS R9 Fury X 4GB HBM

Référence
H395LF4G3D
Code EAN
4895139010503
Refroidissement
Liquid cooler + Radiator
GPU
AMD R9 Fury X
Fréquence GPU
1050 MHz
Fréquence mémoire
500 (1.0 GBPs) MHz
Capacité mémoire
4096 MB
Type de mémoire
HBM
Interface mémoire
4096 bit
Interface
PCI Express x16 (PCI Express 3.0)
Dimensions de la carte
20.5x13x3.8 (Main board), 15.2x12x6.5 (Radiator) cm
Dimensions du la boite
43 x 21.65 x 19 cm
Poids de la boite
2 kg
Availability
HIS R9 Fury X Liquid Cooler 4GB is the world's most advanced and innovative GPU to date, delivering the highest GPU memory bandwidth ever for unparalleled 4K and VR gaming.
New Technology, New Experiences

High-Bandwith Memory (HBM)
Ground- breaking performane requires big bandwidth. The lastest innovation delivers more than 3x the bandwidth per watt over GDDR5 along with a 4096-bit memory interface for incredible new advances in power and efficiency.
Extreme 4K Resolution Gaming
Leave HD in the dust and max-out game settings at 1440p, or jump directly to ultra-HD 4K for extreme gaming.
Virtual Super Resolution (VSR)
Get quality that rivals 4K, even on a 1080p display wile playing your favorite AAA or online games .
AMD FreeSync™ Technology
The FreeSync™ technology resolves the communication issues between processor and monitor, eliminating image tears and choppiness for effortlessly smooth gameplay.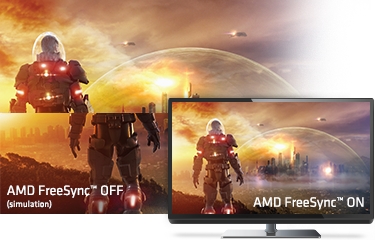 DirectX® 12, Vulkan™
Battle-ready with optimized performance for next-gen APIs and is designed from the ground up to give yo everything you need to enjoy the latest games.
Ultra resolution powerhouse
For some gamers, having enough isn't the point. For them, overkill is merely a starting point. That means extreme resolutions, multiple monitors and sliders to the max. Run ultra settings in 4K with impunity. Or get two million pixels more than 4K by combining five HD screens in an AMD Eyefinity technology setup.4 Either way, the AMD Radeon R9 295X2 barely breaks a sweat.
Built for Crossfire

The card features the Next Generation CrossFire support for up to 5 GPUs with No interconnect bridge required.

GCN
With AMD 2nd generation GCN technology, the card optimizes DirectX® 12 gaming performance automatically up to 2.5 times faster! It also offers up to 4.5x compute performance and up to 95% lower GPU Idle Power Consumption!

Apps Faster & Smoother!
The card enables a "quality graphics" experience on everyday applications, giving huge performance boosts on image processing, file compression, media converter apps, and a lot more!
• Adobe Photoshop CS6
• Corel Winzip 16.5
• Musemage
• Handbrake
• MotionDSP Vreveal
• GIMP
• Cyberlink Power Director
• ArcSoft Media Converter
AMD TrueAudio
With the sonic brilliance of AMD TrueAudio technology, your games now sound as good as they look. You get the most revolutionary, realistic and breathtaking sound we've ever put in a GPU.
AMD Eyefinity
Enjoy the ultimate immersive gaming experience with innovative "wrap around" multi-display capabilities.

PCI-e 3.0 Support

Armed with the latest PCI-e 3.0 bus design maximizes performance by delivering double bandwidth per lane of PCI-e 2.x. Paired the card with the latest platforms and get the ultimate performance!


More Graphics, Less Power!
The new architecture of the card gets more usable processing power for your money, enabling better frame rates in the latest games at high resolutions. In addition, with AMD ZeroCore Power & AMD PowerTune technologies, you can optimize the balance between performance and power consumption of your system by adjusting the engine clock during runtime of the card. Manage the power and keep your wallet loaded!

See More, Enjoy More!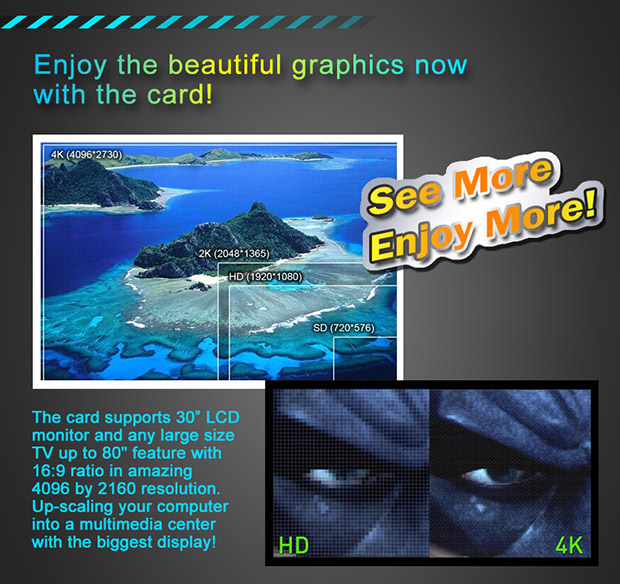 The card supports 30" LCD monitor and any large size TV up to 80" feature with 16:9 ratio in amazing 4096 by 2160 resolution. Up-scaling your computer into a multimedia center with the biggest display!
What's in the box
HIS Graphics Card
Install CD with Multilingual User Guide
Quick Installation Guide
HIS Power Up Label
Model Name

HIS R9 Fury X 4GB HBM
Chipset
AMD Radeon R9 Fury X
Memory Size

4096 MB

Memory Type
HBW
Core Clock

1050 MHz

Memory Clock

500 MHz (1.0 Gbps)
Memory Interface

4096 bit HBM

Power Supply
Requirement

750W (or greater) power supply with two 150W 8-pin PCI Express power connectors

Max. Resolution
(per Display)

DisplayPort 1.2 - 4096x2160
HDMI - 4096x2160

Interface
PCI Express 3.0 x16

Outputs
HDMI (Type A) + 3x Display port
System Requirements
PCI Express® based PC is required with one X16 lane graphics slot available on the motherboard
750W (or greater) power supply with two 150W 8-pin PCI Express power connectors recommended
NOTE: Minimum recommended system power supply wattage is based on the specific graphics card and the typical power requirements of other system components. Your system may require more or less power. OEM and other pre-assembled PCs may have different power requirements.
Minimum 8GB of system memory
16GB (or more) system memory recommended for AMD CrossFire™ technology
Installation software requires CD-ROM drive, a keyboard, a mouse, and a display. Latest AMD Catalyst™ software also available at www.amd.com/catalyst
DVD playback requires DVD drive and a DVD
A display with digital input (HDMI, DisplayPort or DVI) is required
Blu-ray™ playback requires Blu-ray drive and a Blu-ray disc
Supported operating systems include Linux®, Windows® 10, Windows® 8.1, Windows® 7 and Windows® XP
64-bit operating system highly recommended.

Post your comment
Comments will be reviewed by the editors before being published, mainly to ensure that spam and irrelevant material are not published . Please feel free to comment!
We strongly encourage you to use your real name. E-mail addresses are required in case we need to follow up with you directly. We won't publish your e-mail address unless you request.

Retour