HIS HD 4870 Fan 512MB (256bit) GDDR5 PCIe

Product Code
H487FN512P
EAN Code
4895139001525
Cooler
Fan
GPU
4870
Core Clock
750 MHz
Memory Clock
3600 MHz
Memory Size
512 MB
Memory Type
GDDR5
Memory Interface
256 bit
Interface
PCI Express x16 (PCI Express 2.0)
Card Dimension
12.5 x 25 x 4 cm
Box Dimension
34.5 x 21.5 x 5.5 cm
Box Weight
1 kg
Availability
Available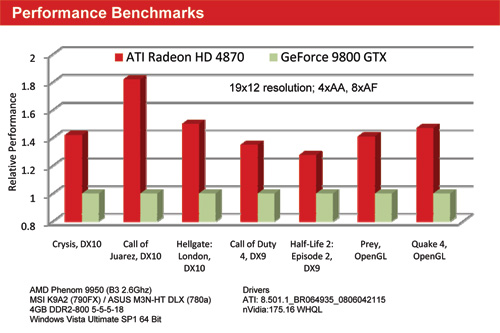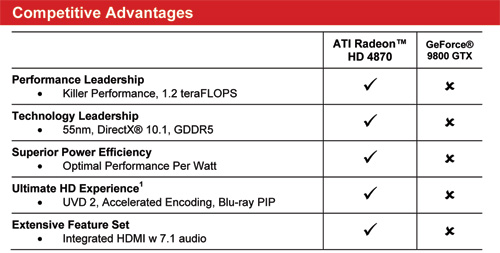 Overview
Powered by Radeon® HD 4870 GPU
956 million transistors on 55nm fabrication process
800 stream processing units
DirectX® 10.1
24x custom filter anti-aliasing (CFAA) and high performance anisotropic filtering
ATI CrossFireXTM multi-GPU support for highly scalable performance
Use up to four discrete cards with an AMD 790FX based motherboard
Built-in HDMI with 7.1 surround sound support

The HIS DVI to HDMI Adapter for ATI 4000/ 3000 series is required to fully utilize the audio through HDMI features

PCI Express® 2.0 support
Component Upgrade
Optimized Heatsink
Optimized PWM Circuitry
Remove Redundancy Ramsinks
HIS PRODUCTS ADVANTAGE
HIS delivers Faster, Cooler, Quieter plus the best quality product!
Professional customer service and technical support
ACCESSORIES
SOFTWARE BUNDLED
CABLE/ADAPTOR BUNDLED
Power Cable 2x 4pin in, 6 pin out
DVI-VGA Adapter
DVI-HDMI Adapter
Model Name
HIS HD 4870 Fan (Full HD 1080p) HDMI 1GB (256bit) GDDR5 Dual DL-DVI & TV (HDCP) PCIe (RoHS)
Chipset
Radeon HD 4800 PCIe Series
ASIC
RadeonTM HD 4870 GPU
Pixel Pipelines
800 stream processing units* (Unified)
Vertex Engines
800 stream processing units* (Unified)
Manu. Process (Micron)
55nm
Transistor
956 million
Memory Size (MB)
1024
Memory Type
GDDR5
RAMDAC (MHz)
400
Engine CLK (MHz)
750
Memory CLK (MHz)
3600
Memory Interface (bit)
256
Max. Resolution
1920x1200 (single-link DVI) or 2560x1600 (dual-link DVI)
Bus Interface
PCI Express x16

Power Supply Requirement

500 Watt or greater power supply with two 75W 6-pin PCI Express® power connectors recommended (600 Watt and four 6-pin connectors for ATI CrossFireX™ technology in dual mode)

Caution: Please make sure to connect your graphics card with certified power supplies with 6-pin PCI-Express Power connectors.
VGA
No
2nd VGA
No
DVI
Yes
2nd DVI
Yes
TV-out
Yes
HDTV (YPrPb component output)
No
ATI Radeon™ HD 4870 System Requirements

PCI Express® based PC is required with one X16 lane graphics slot available on the motherboard

500 Watt or greater power supply with two 75W 6-pin PCI Express® power connectors recommended (600 Watt and four 6-pin connectors for ATI CrossFireX™ technology in dual mode)

Certified power supplies are recommended. Refer to http://ati.amd.com/certifiedPSU for a list of Certified products
Minimum 1GB of system memory
Installation software requires CD-ROM drive
DVD playback requires DVD drive
Blu-ray™ playback requires Blu-ray drive
For a complete ATI CrossFireX™ system, a second ATI Radeon™ HD 4870 graphics card, an ATI CrossFireX Ready motherboard and one ATI CrossFireX Bridge Interconnect cable per graphics card are required
Caution: Please make sure to connect your graphics card with certified power supplies with 6-pin PCI-Express Power connectors.
For more information, please visit the following link:
http://ati.amd.com/products/radeonhd4800/specs1.html

Redefine HD Gaming
The ATI Radeon HD 4800 Series GPUs deliver a cinematic gaming experience with unprecedented performance. The powerful new TeraScale graphics will propel you deep into your gameplay with seamless frame rates and high resolutions. Enhanced anti-aliasing (AA) and anisotropic filtering create striking graphics with unparalleled realism so you can max out the settings of the most demanding next-generation games or revitalize your favorite titles. Play today while preparing for tomorrow with tessellation, support for DirectX® 10.1 and scalable ATI CrossFireXTM technology.
ATI AvivoTM HD Technology
ATI AvivoTM HD is the advanced image and video processing and display technology found in ATI RadeonTM HD GPUs and ATI TheaterTM video capture processors. Specifically designed for HDTV and HD video enthusiasts, ATI Avivo HD provides brilliant colors, sharp images, smooth playback of Blu-rayTM* and HD video content, HDMI with built-in multi-channel digital audio, and on some GPUs, Unified Video Decoding (UVD). UVD is designed to enable a cool and quiet media PC with low CPU power requirements and playback of HD 1080p content. HD Monitor is required for full 1080p enjoyment.
HDMI Video and Audio
A system with an ATI RadeonTM HD 4800 Series graphics card can help enhance the HD entertainment experience by providing a seamless connection to an HDTV or home theater system. With built-in 7.1 surround sound audio (AC3 / DTS ), the new GPUs and graphics cards support single cable connection directly to a compatible HDTV, projector or receiver. This single cable carries both the HD video and 8 channel audio for a clean, high definition connection. Some graphics cards will be equipped with an HDMI connector, while others will output the HDMI signal using a special ATI Radeon DVI-I to HDMI adapter. These options give consumers more options and flexibility when connecting their PCs to monitors or home theaters for maximum enjoyment of HD content. The new GPU also supports xvYCC color which can display a wider range of color when connected to capable HDTVs.
* The HIS DVI to HDMI Adapter for ATI 4000/ 3000 series is required to fully utilize the audio through HDMI features
Microsoft® DirectX® 10.1 support
ATI RadeonTM HD 4800 series GPUs offer full support for the new DirectX® 10 and DirectX® 10.1 API (Application Program Interface) from Microsoft; ready to meet the demanding needs of new, next generation games. DirectX 10 is the first totally new DirectX in the last 4 years and brings important graphics innovations that can be used by game developers for the next generation of games. DirectX 10 introduces crisp, never-beforeseen detail-rich images, visual effects and game dynamics capable of accurately simulating the real world. No matter which ATI RadeonTM HD 4800 Series GPU you choose, you can be assured that games will look as good as the developer intended!
ATI CrossFireXTM Technology
ATI CrossFireXTM multi-GPU technology takes your gaming experience to the next level with superb scalability, performance and compatibility. The technology combines the awe-inspiring capabilities of multiple ATI RadeonTM graphics cards and an ATI CrossFireX ready motherboard to meet the hard-core demands of your alternate reality. New ATI RadeonTM HD graphics cards are designed with an internal ATI CrossFireTM Bridge Interconnect system to simplify installation.
Microsoft® Windows Vista®
ATI RadeonTM HD 4800 series graphics cards provide support for the Microsoft® Windows Vista® operating system and take advantage of the Windows AeroTM graphical interface. You will be amazed by the dazzling 3D visual effects and have peace of mind that the ATI CatalystTM software and drivers are designed and thoroughly tested to ensure full compatibility and stability to help keep you up and running. All these new technologies and features make the ATI Radeon HD 4800 series of GPUs the ideal solution for ultimate HD gaming and HD video entertainment with the Windows Vista OS
ATI Radeon™ HD 4870 - GPU Specifications
956 million transistors on 55nm fabrication process
PCI Express 2.0 x16 bus interface
256-bit GDDR3/4/5 memory interface
Microsoft® DirectX® 10.1 support

Shader Model 4.1
32-bit floating point texture filtering
Indexed cube map arrays
Independent blend modes per render target
Pixel coverage sample masking
Read/write multi-sample surfaces with shaders
Gather4 texture fetching

Unified Superscalar Shader Architecture

800 stream processing units

Dynamic load balancing and resource allocation for vertex, geometry, and pixel shaders
Common instruction set and texture unit access supported for all types of shaders
Dedicated branch execution units and texture address processors

128-bit floating point precision for all operations
Command processor for reduced CPU overhead
Shader instruction and constant caches
Up to 160 texture fetches per clock cycle
Up to 128 textures per pixel
Fully associative multi-level texture cache design
DXTC and 3Dc+ texture compression
High resolution texture support (up to 8192 x 8192)
Fully associative texture Z/stencil cache designs
Double-sided hierarchical Z/stencil buffer
Re-Z, and Z Range optimization
Lossless Z & stencil compression (up to 128:1)
Lossless color compression (up to 8:1)
Up to 8 render targets (MRTs) with anti-aliasing
Accelerated physics processing

Dynamic Geometry Acceleration

High performance vertex cache
Programmable tessellation unit
Accelerated geometry shader path for geometry amplification
Memory read/write cache for improved stream output performance

Anti-aliasing features

Multi-sample anti-aliasing (2, 4, or 8 samples per pixel)
Up to 24x Custom Filter Anti-Aliasing (CFAA) for improved quality
Adaptive super-sampling and multi-sampling
Gamma correct
Super AA (ATI CrossFireX™ configurations only)
All anti-aliasing features compatible with HDR rendering

Texture filtering features

2x/4x/8x/16x high quality adaptive anisotropic filtering modes (up to 128 taps per pixel)
128-bit floating point HDR texture filtering
sRGB filtering (gamma/degamma)
Percentage Closer Filtering (PCF)
Depth & stencil texture (DST) format support
Shared exponent HDR (RGBE 9:9:9:5) texture format support

OpenGL 2.1 support
ATI Avivo™ HD Video and Display Platform6

Unified Video Decoder 2 (UVD 2) for H.264/AVC, VC-1, and MPEG-2 video formats

High definition (HD) playback of Blu-ray and HD DVD video
Dual stream (HD+SD) playback support
DirectX Video Acceleration 1.0 & 2.0 support
Support for BD-Live certified applications

Hardware DivX and MPEG-1 video decode acceleration
Accelerated video transcoding & encoding for H.264 and MPEG-2 formats
ATI Avivo Video Post Processor6

Color space conversion
Chroma subsampling format conversion
Horizontal and vertical scaling
Gamma correction
Advanced vector adaptive per-pixel de-interlacing
De-blocking and noise reduction filtering
Detail enhancement
Color vibrance and flesh tone correction
Inverse telecine (2:2 and 3:2 pull-down correction)
Bad edit correction
Enhanced DVD upscaling (SD to HD)
Automatic dynamic contrast adjustment

Two independent display controllers

Drive two displays simultaneously with independent resolutions, refresh rates, color controls and video overlays for each display
Full 30-bit display processing
Programmable piecewise linear gamma correction, color correction, and color space conversion
Spatial/temporal dithering provides 30-bit color quality on 24-bit and 18-bit displays
High quality pre- and post-scaling engines, with underscan support for all display outputs
Content-adaptive de-flicker filtering for interlaced displays
Fast, glitch-free mode switching
Hardware cursor

Two integrated dual-link DVI display outputs

Each supports 18-, 24-, and 30-bit digital displays at all resolutions up to 1920x1200 (single-link DVI) or 2560x1600 (dual-link DVI)2
Each includes a dual-link HDCP encoder with on-chip key storage for high resolution playback of protected content3

Two integrated 400 MHz 30-bit RAMDACs

Each supports analog displays connected by VGA at all resolutions up to 2048x15362

DisplayPort output support

24- and 30-bit displays at all resolutions up to 2560x16002

HDMI output support

All display resolutions up to 1920x10802
Integrated HD audio controller with support for stereo and multi-channel (up to 7.1) audio formats, including AC-3, AAC, DTS, DTS-HD & Dolby True-HD4, enabling a plug-and-play audio solution over HDMI

Integrated AMD Xilleon™ HDTV encoder

Provides high quality analog TV output (component/S-video/composite)
Supports SDTV and HDTV resolutions
Underscan and overscan compensation

Seamless integration of pixel shaders with video in real time
VGA mode support on all display outputs

ATI PowerPlay™ Technology5

Advanced power management technology for optimal performance and power savings
Performance-on-Demand

Constantly monitors GPU activity, dynamically adjusting clocks and voltage based on user scenario
Clock and memory speed throttling
Voltage switching
Dynamic clock gating
Central thermal management – on-chip sensor monitors GPU temperature and triggers thermal actions as required

ATI CrossFireX™ Multi-GPU Technology

Scale up rendering performance and image quality with two, three, or four GPUs
Integrated compositing engine
High performance dual channel bridge interconnect1
August 20th, 2011 at 07:07 am
By luncent30
the best one card.....love it!!!
thanks HIS team,..
March 8th, 2009 at 04:10 am
By lazarus
its perfect card...best performance and lower price(better than 9800gtx series).thanks for his team...
Post your comment
Comments will be reviewed by the editors before being published, mainly to ensure that spam and irrelevant material are not published . Please feel free to comment!
We strongly encourage you to use your real name. E-mail addresses are required in case we need to follow up with you directly. We won't publish your e-mail address unless you request.






HIS has won over 1700 awards with AMD graphic solutions from major media worldwide.
HIS 4870 Fan 512MB GDDR5 scores 5 out of 5 stars and recommended by eMag

" In the gaming tests its results were surprisingly similar to GTX 275, showing that if the idea is game HIS HD 4870 is the choice with very good cost benefit. " - Review by Tecnologia

Back