HIS Multi-View USB Portable Docking Station, Gigabit Ethernet for Mac & Windows (HDMI + VGA up to 2048 x 1152, USB 3.0 port)

Product Code: HDOCKP

EAN Code: 4895139009620

Product Dimension: 12.4 x 5.5 x 1.7cm

Giftbox Size: 17.5 x 11 x 2.7cm

Giftbox Weight: 0.14kg




Get an easy work life for your MacBook, Notebook or Tablet(Windows 8.1)! HIS Multi-View USB Portable Docking Station organizes your peripherals in 1 device, 1 plug, external monitor workstation at 1 time!
Get an easy work life for your MacBook, Notebook or Tablet(Windows 8.1) ! HIS Multi-View USB Portable Docking Station organizes your peripherals in 1 device, 1 plug, external monitor workstation at 1 time!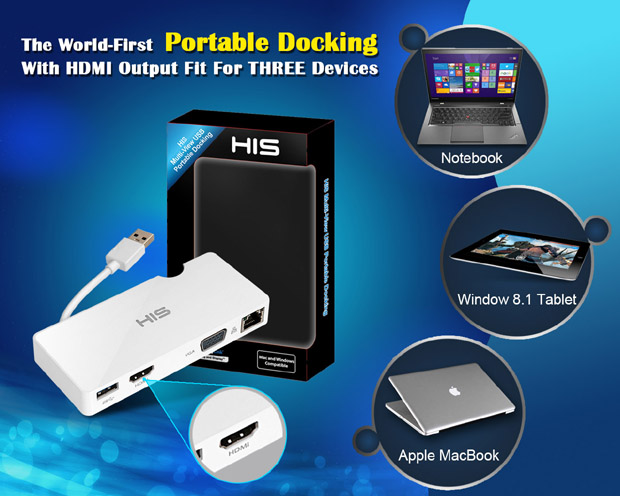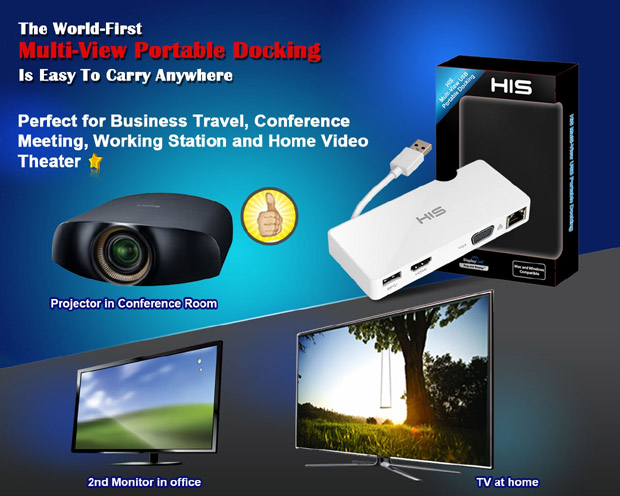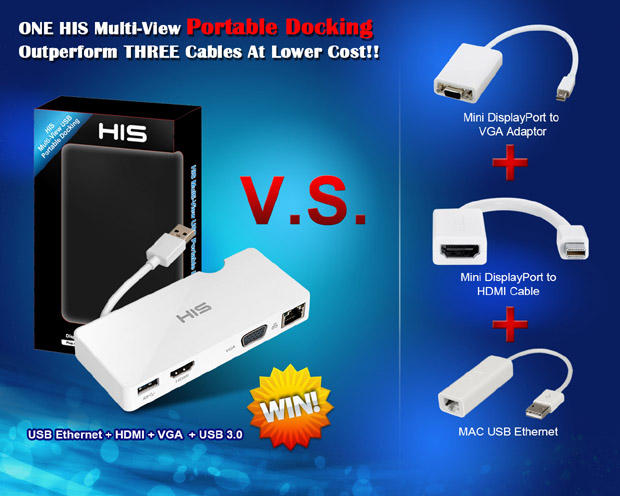 Application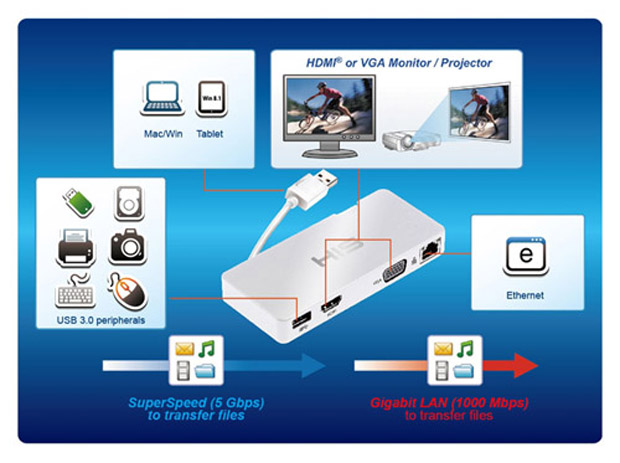 1 USB plug in, all connect
Organize all your device and peripherals at once by simply plug in the USB 3.0 cable to your device. Now you can brings your USB device, internet router, video output together with one USB cable! Turn your MacBook, Window Tablet and laptop into a control center with only 1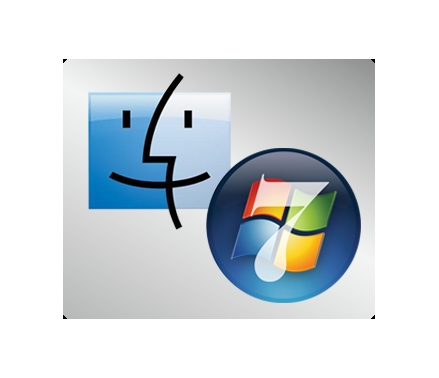 plug and play action.
1 Docking, support both MAC & Windows!
Support MacBook Air, MacBook Pro & Tablet with Windows 8.1 and Windows base notebook device.
View More, Work Better

USB 3.0, Synchronising faster!
Being 10 times faster than USB 2.0, USB 3.0 has transmission speed up to 5 Gbit/s. A lot of time will be saved on synchronizing and can be spent on more important things.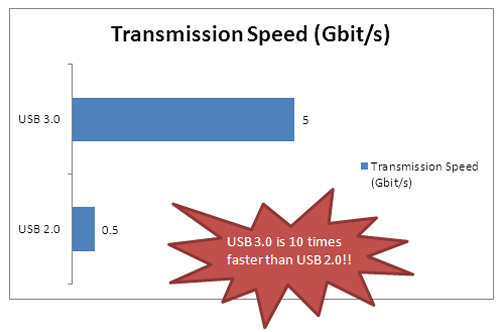 User Friendly, you get what you plug!
You can see what is running with full control. USB 3.0 is backward compatible with USB 2.0. So you have no need to worry whether your old devices can be used with the docking.
View More, Enjoy More
Enjoy Large Screen TV!
Both HDMI & DVI port on HIS Multi-View x2 support 27" LCD monitor and any large size TV up to 80" feature with 16:9 ratio in amazing 2048 by 1152 resolution, up-scaling your computer into a multimedia center with the biggest display!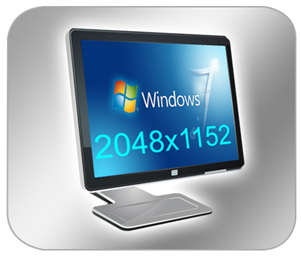 Enjoy HD Beauty
With Full HD 1080p support & HDMI Output, the device delivers high quality HDMI 1920X1080 graphics PLUS sound, enabling seamless full-screen video playback over USB. Watch HD, listen HD and feel HD - Enjoy the beautiful and crystal clear sound apart from the superb graphics now!.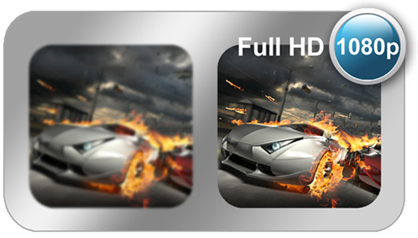 Product Features
- Add-on monitor, LCD or projector through a single USB 3.0 port hot-plug; add or remove monitor without system reboot
- Small in size, works with all VGA displays.
- Supports High Resolution up to 2048x1152
- Video streaming is supported up to 1080p
- Extend and Mirror mode support.
- Resumes from hibernation and suspend modes
HIS Product Advantages
HIS delivers Faster, Cooler, Quieter plus the best quality product!
Professional customer service and technical support
What's in the box
Multi-View USB Portable Docking Station
Installation CD disc
Quick Installation Guide
Product Details
Product Dimension: 12.4 x 5.5 x 1.7cm
Giftbox Size: 17.5 x 11 x 2.7cm
Giftbox Weight: 0.14kg
Features
USB 3.0 Multi-Function Adapter
USB 3.0 upstream connection x 1
USB 3.0 downstream connection x 1
HDMI or VGA port, resolution up to 2048 x 1152
Gigabit Ethernet port, support 10/100/1000
Mbps data transfer.
USB bus-powered
USB 3.0 is downward compatible with USB 2.0
System Requirements
Computer with one USB 2.0 or 3.0 interface
Supported Operating System:
Windows® 7/ Windows® 8/ Windows® 8.1
Mac OS® 10.9
Computer with one USB 2.0 or 3.0 interface
January 21th, 2015 at 04:04 pm
By Mark Lee
One Single Device for two Worlds
Many of the ultraportables today are thin, lightweight and easy to carry. However, the main issue with these laptops is the lack of extension ports.
As an administrative staff in an institute, I need ultraportable to go along with me during my work. I have to do PowerPoint and Keynote presentations in various occasions. Furthermore, I need a more secured connection in order to access the server, which a wired connection serves a better job than a wireless one. That's a big issue aroused – I need to carry lots of adapters with my laptop when I go out to work? Or I just carry a heavy all-in-one laptop in order to get rid of all these adapters?
I own two laptops from two different Worlds – a MacBook Air and a Microsoft Surface Pro 3. I started to search for solutions for both of them. For my Macbook Air, I purchased both a Mini-DisplayPort to VGA adapter and a USB Ethernet Port and they cost me HKD$456. I have encountered a situation that only HDMI video input was available for the HDTV and I could not get my Macbook Air plugged. As a result, I had to purchase an additional Mini DisplayPort to HDMI adapter for HKD$278. It is no doubt that I can use all three of them on both my Macbook air and the Surface Pro 3. However, it would be a totally different user experience when I have to carry all these 3 adapters along with my ultraportable. In other word, it loses the true meaning of ultraportable. Will there be a single solution for all these connections and it works well on Mac and PC?
I searched online for a perfect solution for all my needs and find the HIS Mulit-view USB Portable Docking Station. It is a portable USB docking station with all the ports I need – a VGA output, a Gigabit Ethernet Port, a HDMI port and a USB 3.0 port. The USB 3.0 port is a bonus for me as there is only one USB 3.0 on my Surface Pro 3. If I have to plug in a thumb drive or a USB external harddisk, there will be no extra port for me to connect my Surface Pro 3 for an Ethernet adapter. The most important feature of the portable docking station is the low power consumption. It can be powered by a single USB 3.0 and I don't need to carry an extra AC adapter for all these 4 extra connections on the portable docking station! I can really enjoy working with ultraportable with only a single portable station as it only weights a 100g more.
October 5th, 2014 at 11:32 pm
By Niclas Rydell
This products saves a me a lot of time every day when I arrive at work or home with my notebook. The docking station is laying there on my desk with all the cables from my external monitors, USB hub and network cable plugged in. Instead of plugging all those cables in and out of my notebook every day when I arrive and leave from work I just plug in one USB cable from the docking station to the notebook and everything is connected and up and running.
This product is like a notebook docking station but even better as it has a graphic card that supports external displays, it is much smaller and can be used with any device through USB. The performance is great for office applications and if you would like a few extra monitors for that computer game the docking station supports Direct X 10 and 11 as well.
I recommend this product to anyone who would like to add more displays to their computer through USB and as a docking station in the office to simplify the task of plugging and unplugging cables every day.
Post your comment
Comments will be reviewed by the editors before being published, mainly to ensure that spam and irrelevant material are not published . Please feel free to comment!
We strongly encourage you to use your real name. E-mail addresses are required in case we need to follow up with you directly. We won't publish your e-mail address unless you request.





HIS has won over 1700 awards with AMD graphic solutions from major media worldwide.
"It's quite small and extremely light, making for easy transportation. It feels well-made, I wouldn't expect a few drops or knocks to worry it at all.

If you're a user of ultra-thin devices like the Chromebook or MacBook Pro, this docking station is sturdy and a cheaper alternative than most others. It lacks some features, but for some, it could do the job well."


TweakTown – Rating 81% out of 100%

"For people constantly on-the go, the HIS Multi-View USB Portable Docking station comes to help by providing an extra HDMI port, one VGA port but also one Ethernet gigabit port, all in a single adapter; potential customers will say that by plugging this device we will lose one available USB 3.0 port, but HIS had this in mind and has also provided one extra USB 3.0 to complement the lost one.
HIS and other manufacturers were offering these types on interfaces via USB in the past, but each and every one needed an extra USB port, while the HIS Multi-View USB Portable dock has all-in-one."

Madshrimps.be – Recommended Novelty Product


"Advantages:

• compact size;
• rugged design with excellent ergonomics;
• Easy to use and configure;
• Support for display output interfaces via HDMI, VGA and DVI (with an adapter);
• Supports resolutions up to 2048 x 1152;
• Excellent image quality mode duplication and expansion of screen space;
• the possibility of processing and transmission of color depth of 32 bits;
• the possibility of processing and transmission of 3D-graphics and gameplay;
• the ability to transfer 6-channel audio;
• Easy to scale multi-screen systems;
• The use of functional multimedia processor;
• to exchange data with the computer interface is used USB 3.0;
• availability of gigabit ports for network wiring;
• availability of USB 3.0 ports for connecting external drives;
• Convenient USB-cable, which is recessed into the casing USB-video adapter."


EasyCom – High Functionality Award
"Strong Points:

Small foot print makes this device easy to travel with; convenient way to add more features to a laptop or tablet"


Christ Centered Gamer

"Good:

• Stylish Design
• Easy connection
• Wide range of applications
• Supports HDMI, VGA, USB 3.0 and Gigabit Ethernet
• Good performance
• Monitor performance good for office and school use
• Do not use power from the external power source "

Tweak.dk – Safe Buy Award

"The portable all-rounder is the ideal travel companion because he evaluates mainly flat and simply held mobile devices neatly on. The analog output in the absence of D-Sub on the notebook can be quite a help when it eg for simpler Beamer."


Tom's Hardware

" 對於只用筆記簿型電腦的用家十分合適,特別是 Mac Book Air 的用家,只需一組 US3.0 接口即能提供大屏幕輸出,甚至雙屏幕輸出,工作或娛樂亦能用上,而且其中一組為 VGA 接口,支援大部份商務投影機的接口,日後只需攜帶此設置即可隨時使用。此外,提供 Ethernet 接口亦受十分重要,雖然現時差不多所置亦會配備 WIFI ,但始終不及直接用線材穩及高速,對於下載大型檔案時效果更為突出。"
HKEPC

"The HIS Multi-View USB Portable Docking is super convenient for adding another HDHI or VGA display port and it even has a gigabit LAN port. Just connect the device into a USB port and you have the capability of a multi-display setup on just about any computer system or tablet."

3D GameMan – Kickass Gameman's Choice

"The HIS Multi-View can pack up practical and space-saving storage. Convenient for travel. Connections on the computer you can never have enough - space problems here mostly preprogrammed especially when you handled as filmmaker with a lot of peripherals. HIS's with the multi-view offers now a convenient dock.

The docking station uses the USB 3.0 standard, but is also compatible with USB 2.0. You can connect monitors and TVs up to 27 inches 80 inches with a maximum resolution of 2048 x 1152 pixels via the HDMI or VGA port. Video streaming is up to 1920 x 1080 pixels feasible."

VideoAktiv

"The USB 3.0 Mobile Docking Station Multi-view of high-tech information system (HIS) can connect monitors or projectors without rebooting via HDMI, provides Gigabit LAN connection and also linked VGA monitors and USB 3.0 devices.

Memory devices, flash drives, keyboard, mouse, printer, scanner and HDMI or VGA monitors are so fast without re-patching the interface poor computer. The docking station supports full HD 1080p with a resolution of 1920 by 1080 pixels. The HDMI connection is fast enough for 3D representations at a brisk change of polarization images. "

Itespresso

"The new HIS Multi-View USB 3.0 Mobile Docking Station can be connected, for example via the USB port on your notebook or desktop PC and provides more connection options for devices. It is a USB 3.0 port on the docking station for USB devices available, VGA / HDMI ports for monitors and televisions and also a Gigabit Ethernet LAN interface for networking.

About the HDMI HD resolutions up to 2048 x 1152 pixels or supports LCD monitors up to a size of 27-inches. TV with up to 80-inch size and a maximum resolution of Full HD (1920 x 1080 pixels) are also supported. In principle, allows the docking station to use as a shortcut between different monitors and USB devices."

Welt der Gadgets

"The HIS USB 3.0 Mobile Docking Station is kept compact, and thanks to the white surface, it offers also a very elegant appearance. HIS is not with the equipment on a simple extension of the USB ports, but instead provides different connections, which are ultimately combined via USB 3.0.

So docking station provides a USB 3.0 port and the ability to connect a LAN cable. Furthermore, the user can also connect a screen and draw on HDMI or VGA purpose."

HT4U.NET

Back