HIS X1550 iFan 512MB HyperMemory w/256MB (64bit) DDR2 Dual DVI Low Profile PCIe x1

产品编号
H155HMF256EDDE1L-R
H155HMF256EDDE1LN-R
EAN 编码
4897005358313
散热器
iFan
GPU
1550
芯片时脉
550 MHz
记忆体 时脉
800 MHz
记忆体
512 MB
记忆体类别
DDR2
记忆体介面
64 bit
介面
PCI-Express x1
显卡大小
12.1 X 18 X 4 cm
包装盒大小
12.5 x 25 x 4 cm cm
产品重量(连包装盒)
0.7 kg
Availability
Available
His X1550 256MB (512MB HyperMemory) PCIe x1 is a economical multi-monitoring solution for the Business and Multimedia. It hasa 4 pixels Shader units, a clock memory of 550 MHz and a core memory of 800 MHz. Each HIS X1550 PCIe x 1 card enable user to connect to 2 monitors at the same time and up p to 9 monitors can be connected. User can easily control the setting by the well-known ATI Catalyst driver.
The PCI-X1 slot on nearly all traditional motherboard. Users who need to deal with several applications in the same time, especially to professionals in multimedia field, found multi-montiors setting a huge time saver. The ability to display e-mail on one monitor, a browser window on a second and in some cases an application on a third, and then seamlessly move their cursors from screen to screen, is a clear benefit!
Having multiple monitors is more than just having more space. It can be a huge time saver for people!
Features Advantages

World's best performance PCIe x1 solution on ATI X1K family with Dual Link DVI supported
Multi-monitors possibility
Bringing upgrade possibility to those onboard graphic without PCIe x16 slot
Best for Video, Photo and Office applications
Low Profile form-factor
Upgrading Possibilities:
Brand name system: like Dell (eg: Dell Dimension E310), HP, IBM and some of those onboard graphic systems which do not come with extra PCIe x 16 slot but only with 1 or more PCIe x 1 slot(s). For example:


Dell E310.

Dell optiplex 745

Dell Optiplex GX520

Dell PowerEdge SC1430

<!--[endif]-->

HP/Compaq SFF desktop dc series(except dc5100 SFF)

Chipset limitation: such as Intel i910GL, i915PL/GL/GV, i945GZ come with PCIe x 1 but without PCIe x 16 support.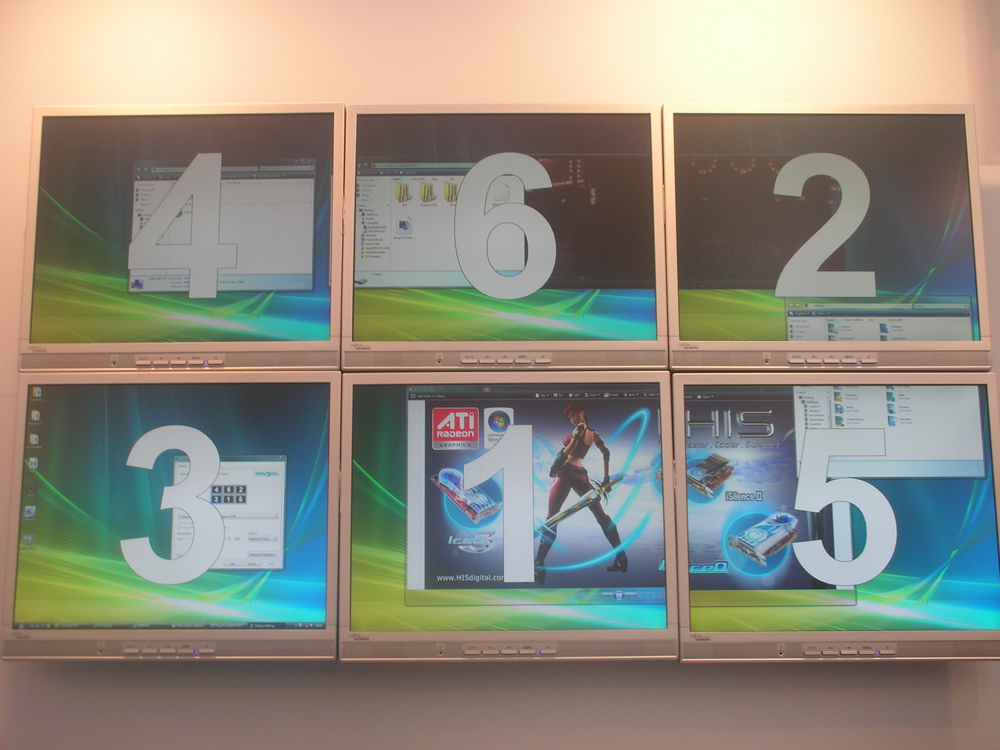 | | | |
| --- | --- | --- |
| | Connected Monitors | Total Monitors |
| Onboard Display / Generic PCIe x 16 graphic card | 1 or 2 | 1 or 2 |
| 1 st piece of HIS 512MB HM PCIe x1 | 2 | 3 or 4 |
| 2 nd piece of HIS 512MB HM PCIe x1 | 2 | 5 or 6 |
| 3 rd piece of HIS 512MB HM PCIe x1 | 2 | 7 or 8 |
| N th piece of HIS 512MB HM PCIe x1 | 2 | N x 2 + 1 or 2 |
---
Powered by ATI Radeon X1550 - 550MHz
256MB-64bit 4 channel DDR2 memory - 800MHz
4 Pixel shader processors
2 Vertex shader processors
4 Geometry Pipelines
Ultra-threaded SM 3.0 Engine
ATI AvivoTM
High Precision Architecture
PCI Express® x1 lane support
Compatible for Dell Dimension E310 Desktop
CHIPSET FEATURES
RV515 80nm process
Vertex and Pixel Shader 3.0
Dynamic Branching and Flow Control
128-bit FP32 Processing
128-way Ultra-threaded dispatch processor
High Dymanic Range rendering
All stage Trilinear (16X) Anisotropic Filtering
Full (HQ) Anisotropic Filtering
Temporal Anti-Aliasing mode
6X Adaptive AA
12-tap error-free Dynamic Soft Shadows
High resolution texture support (up to 4k x 4k)
H.264 Accelerated
Dual-Link DVI
DirectX® 9 and OpenGL® supported
HIS PRODUCTS ADVANTAGE
HIS delivers Faster, Cooler, Quieter plus the best quality product!
Platinum packing with software bundle
Professional customer service and technical support
CABLE/ADAPTOR BUNDLED
S-Video Cable
S-Video Adapter
S-Video to HDTV Cable
Low Profile Bracket
DVI to VGA Dongle
| | |
| --- | --- |
| Model Name | HIS X1550 iFan 512MB HyperMemory w/256MB (64bit) DDR2 PCIe x1 Dual DVI & TV (PAL) (RoHS) Low Profile |
| Chipset | Radeon HD X1550 PCIe Series |
| ASIC | RadeonTM HD X1550 GPU |
| Pixel Pipelines | 4 |
| Vertex Engines | 2 |
| Manu. Process (Micron) | 80nm |
| Memory Size (MB) | 512 HyperMemory w/256MB |
| Memory Type | DDR2 |
| RAMDAC (MHz) | 400 |
| Engine CLK (MHz) | 550 |
| Memory CLK (MHz) | 800 |
| Memory Interface (bit) | 256 |
| Max. Resolution | 1920x1200 (single-link DVI) or 2560x1600 (dual-link DVI) |
| Bus Interface | PCI Express x1 |
| Power Supply Requirement | 450 Watt or greater power supply with two 75W 6-pin PCI Express® power connectors recommended |
| VGA | No |
| 2nd VGA | No |
| DVI | Yes |
| 2nd DVI | Yes |
| TV-out | Yes |
| HDTV (YPrPb component output) | No |
X1550 PCIe 1X System Requirements

· PCI Express® based PC is required with one X1 lane graphics slot available on the motherboard
· 450 Watt or greater power supply recommended
· Certified power supplies are recommended. Refer to http://ati.amd.com/CertifiedPSU for a list of Certified products
· 1GB of system memory
· Installation software requires CD-ROM drive
· DVD playback requires DVD drive
· Blu-ray / HD DVD playback requires Blu-ray / HD DVD drive

For more information, please visit the following link:
http://ati.amd.com/products/RadeonX1550/index.html
Delivers all high-end graphics features for gaming, surfing the Internet and watching digital video at a smart price!
HIS X1550 delivers all the high-end graphics features: supports the DirectX 9.0c, OpenGL 2.0 and Shader Model 3.0, and for anti-aliasing with HDR. Avivo™ engine is also included for encoding/decoding the latest video formats, e.g. MPEG-4, MPEG2, DivX, and H.264…etc.
Prepare your PC with a graphics card that delivers a premium Windows Vista™ experience for playing games, watching movies and viewing pictures. HIS X1550 provides excellent image quality for all gaming, visual and interactive applications.
October 27th, 2009 at 02:42 pm
By Quiro
This card works ok!! Aoe3 works fine :)
Post your comment
HIS欢迎用户随时发表意见,但为了防止出现垃圾讯息及不相关之内容,HIS编辑会先审查用户的评论!
我们强烈建议用户使用真实姓名,亦请提供电邮地址,以便日后HIS需要与用户跟进情况。用户的资料会予以保密。

回上页