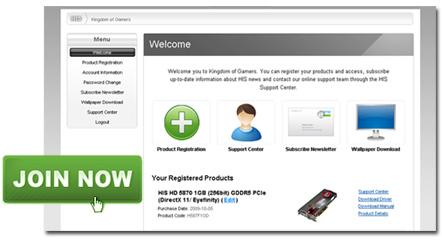 马上加入 Kingdom of Gamers!

HIS(希仕)以诚恳态度为客户提供优质的产品及服务。

现在您可以加入强大的HIS(希仕)军团去征服玩家领域。然而,在你陶醉于超现实的游戏体验時,请勿忘记登记注册您的HIS(希仕)产品。

注册登记玩家的额外益处:
-> 产品登记
-> 在线技术支持
-> 电子新闻订阅
-> 壁纸下载
-> 驱动和软件更新
---
On line Technical Support is your online based help center and contact information center to our Technical Support Team.
When you purchase a HIS product and we wish to provide you with adequate support so you can enjoy our products. To receive support please visit ATI Customer Care for extensive online support, including Drivers, Manual and Knowledgebase. For general requests, you may quick get your answers by following links.
3. Customers Review (We welcome you to submit your opinion on our product in the "Customers Review" section in Product Page.)
To prevent any support delays, please be sure to select the correct region or Country. If you are unable to resolve your support issues by the link above, please do not hesitate to fill in the following Technical Support form. Please enter your product Serial Number and then click Submit. Our support staff will look into your problem and reply as soon as possible.
How to locate the Product Code, Marketing Code & Serial Number?
您可以查看产品序列号码贴纸:
序列号码贴纸位于产品背面: