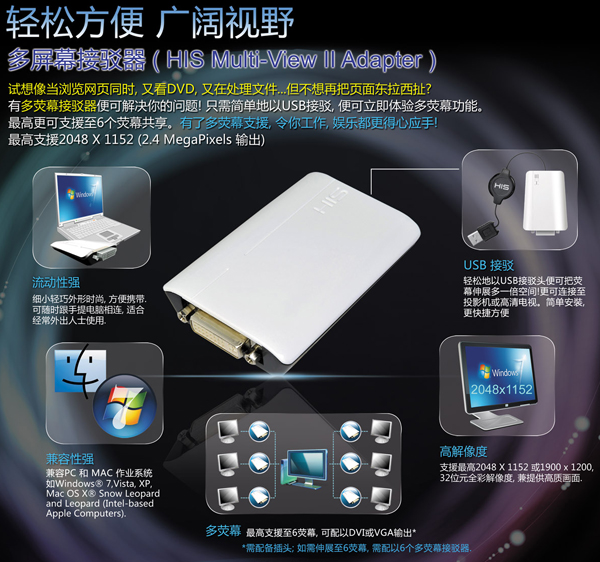 September 12th, 2012 at 02:57 am
By Jose A. Martinez
I have used this product running a quad screen with industrial process a control system, from an old laptop, and it simply does work flawless, no issues at all. The resolution is great and very easy to make it work.
January 6th, 2012 at 07:19 pm
By Maria
Fantastic tool!!! its easy to install on a Macbook 3.1 and works brilliant!
Even with two external display with different solution and frequences.
Different to the youtube clips, its necessary to install the driver, before you try to connect the hardware. Otherwise you will have a bad result.
It was not easy to find that tool. A lot of computer-friends said it is not possible to connect a display with USB.
Thanks a lot!
July 13th, 2011 at 07:24 am
By Mike Hedrick
I have been using this HIS Multi-View II Adapter for last 5 months. It performs as specified and I use it for testing monitors and projectors. It has shown to be a valuable tool. It is very easy to change settings. It accurately reports the EDID information from the display device. At my desk I use it daily with my laptop and connect it to a second monitor using DVI. I would like to add a third display and get another one. In the field I use my it with my laptop and then connect it to a projector for testing or presentations using DVI. During testing I sometimes change the cable from VGA to DVI without having to make any other changes. This product it perfect for connecting mutiple displays to a laptop or anyother PC.
Mike Hedrick - Irvine, California
March 27th, 2011 at 04:24 am
By misu3108
I bought this usb to dvi adapter for the 2nd monitor atached to the laptop and it works great. The drivers were easy to install and it works at 1080p as advertised.
March 14th, 2011 at 12:05 am
By Dave Riffel
This little device made my macbook so much more enjoyable. Compact, easy to pack up. A mobile office for trading is an HDMI connection away!
Post your comment
HIS欢迎用户随时发表意见,但为了防止出现垃圾讯息及不相关之内容,HIS编辑会先审查用户的评论!
我们强烈建议用户使用真实姓名,亦请提供电邮地址,以便日后HIS需要与用户跟进情况。用户的资料会予以保密。





HIS has won over 1000 awards with ATI graphic solution from major media worldwide.

"Pros :

• durable and attractive case;
• Easy to use and configure;
• Support output video through interfaces DVI-I Dual Link and VGA;
• the ability to connect LCD-panels directly to the graphics card;
• Supports resolutions up to 2048 x 1152 for widescreen monitors and a 1920 x 1200 for making a standard aspect ratio;
• excellent image quality at a duplication and expansion of screen space;
• possibility of processing and transmitting the color depth of 32 bits;
• the possibility of processing and transmission of 3D-graphics and gameplay;
• ease of scaling multi-screen systems;
• use of a powerful dual-core multimedia processor;
• efficient cooling system;
• convenient USB-cable in the form of a coil;
• the presence of a protective cover supplied"

EasyCom – Easy to Use Award

"Pros:

-Small
-sleek size
-Extremely easy setup
-USB interface
-Affordable option for limited output systems

"If you're on the go and want to add another monitor when you get home, then any of these adapters are an easy way to do it. You don't need a graphics upgrade, you simply need an available USB port. It doesn't get much easier than that."

Pureoverclock – Good Hardware Award


"Pros:
• Easy installation and configuration
• Compatible with nearly every monitor up to 2048x1152
• Reasonable price
• Good video and audio quality"

"The HIS Multi-View adapters are something unique on our market. We do not often see any similar products and we cannot really find any competition to HIS Multi-View at the moment. Here comes the Muliti-View adapter with a USB connector which solves all of the issues with the lack of additional video outputs. The installation and configuration was really simple. Flawless, "plug and play" configuration is for sure a big advantage especially when you are moving with the computer frequently. A quick, one-time driver installation lets you easily connect to additional displays on any other workplace. "

"The HIS Multi-View adapters are great devices that I can recommend to everyone who needs to connect additional displays to their computer but lacks the additional outputs or graphics card functionality. With the HIS Multi-View, everyone can take advantage of larger workspace without spending much money."
Funkykit - Value Award

"As a gamer, it's nice to be able to see my chat window in the other screen while playing a game from a display that I can pick up and take to another machine later on. Sitting downstairs working on my netbook, it's nice to have an extended screen set up so I can edit or write a review without having to go upstairs to my main PC just for some screen real estate" - Viperlair "Recommended Product"

"Overall we are very impressed with the performance of the adapter. When performing basic tasks like browsing and word processing, you wouldn't know that the monitor is connected to anything other than a graphics card....it represents great value for money and is perfect for those on the go or those who need multiple displays on their laptop. Thanks to it's Mac compatibility, we can see many Macbook owners adopting these so they can use multiple external displays." KitGuru "Must Have Award"
"The kit is impressive. Displaylink and HIS have done a great job at getting the kit to work without any configuration and the package as a whole feels polished.Running from a standard USB 2.0 port, this offers multiple monitor support without trading in your laptop or upgrading your desktop." - Techeye

回上页