HIS 7970 Fan 3GB GDDR5 PCI-E DVI/HDMI/2xMini DP (Free DP to DVI Eyefinity Adapter)

产品编号
H797F3G2M
EAN 编码
4895139006780
散热器
Fan
GPU
7970
芯片时脉
925 MHz
记忆体 时脉
5500 MHz
记忆体
3072 MB
记忆体类别
GDDR5
记忆体介面
384 bit
介面
PCI Express 3.0 x16
显卡大小
12.6 x 4.2 x 29.3 cm
包装盒大小
36.5 x 19.6 x 9.9 cm
产品重量(连包装盒)
1.8 kg
Availability
基恩资讯有限公司 (HIS) 今天正式发布 HIS 7970 3GB。 显卡配备全球首创的28奈米图形处理器,将画质带到更高的境界。显卡拥有925 MHz引擎时钟频率丶5.5 Gbps 显存时钟频率和384位GDDR5显存接口的超高端规格,以强大及疯狂的性能揭开全新7系显卡的序幕。
为回馈及方便用家,显卡特别附赠宽域技术转接器- Mini DisplayPort至SL-DVI转接器。此外,随卡更附送「大力士」一枚,以支撑显卡重量,防止在插糟的显卡因时间久了出现弯板情况,延长显卡寿命。
新设计,新感受
支持PCI-e 3.0 支持最新PCI Express 3.0 x16总线接口,提供比上一代PCI Express 2.x多一倍的带宽,只要配合相关系统,便可全面倍升显卡性能,感受极致的性能!
更低功耗,更高性能
显卡全新的设计及体系结构使显卡能更有效地运算,全方位的提高帧率,同时替用家节省电费。此外,先进的AMD PowerPlay™ 及 AMD PowerTune 电源管理技术,能将显卡的功耗控制在用家想达到的功耗范围内,确保帧率的同时减少耗电,达到节能丶节电,省钱的效果。
看得更多,赢得更多!
HIS 7970 3GB可让计算器成为狂热游戏玩家的最佳武器,令玩家以更完美的图像效果,体验最新的三维立体游戏! 使用随卡附赠的Mini DisplayPort至SL-DVI转接器,连接多台显示器,获得更多画面! AMD宽域技术"2.0"可同时支持4台独立显示器的输出,比上一代拥有更多的视频叠加模式丶更具弹性的边框补偿等等,可实现广阔的桌面工作空间和最身临其境的视觉环境,使您获得极致全景计算体验。这不公平的优势,助您在残酷的游戏世界内,轻松战胜对手。
玩得更爽,赢得更多!
玩得更爽
全面支持微软DirectX® 11.1,使显卡无论在应付现在或未来的DirectX游戏,都游刃有馀。另外显卡配备的AMD HD3D技术,支持三维立体显示器/眼镜,带玩家进入最新的三维立体游戏。显卡还提供比上一代显卡快一倍的显卡曲面细分技术,更快的DirectCompute技术,充分实现三维立体游戏美轮美奂的图像效果!
更佳音效
支持输出高比特率7.1声道环绕声,无需其他线缆,提供超凡的真实感!
画质更高, 享受更好
HIS 7970 3GB的最高分辨率为4096 x 2160可支持30" LCD屏幕及80"特大电视屏幕,令您的计算器摇身一变成为超级多媒体中心。
享受高清之美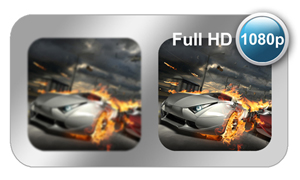 显卡支持双流高清(1080p)视频播放,呈现1920×1080像素的高清影像,观看丶细听丶感受高清带给您完美无暇的画质!
享受受版权保护电影
支持HDCP,用家可播放高带宽数码内容保护的影音,包括DVD电影。
支持四倍高清
四倍高清在市场上尚未普及,但显卡却准备就绪。显卡全面支持3GHz HDMI 1.4a 及DisplayPort 1.2 HBR2,让用家随时可应付四倍高清的需要。
Model Name
HIS 7970 Fan 3GB GDDR5 PCI-E DVI/HDMI/2xMini DP (Free DP to DVI Eyefinity Adapter)
Chipset
Radeon HD 7970 PCIe Series
ASIC
RadeonTM HD 7970 GPU
Manu. Process (Micron)
28nm
Memory Size (MB)
3072
Memory Type
GDDR5
Engine CLK (MHz)
925MHz
Memory CLK (Gbps)
5.5Gbps
Memory Interface (bit)
384
Power Supply Requirement

500 Watt or greater power

Max. Resolution
4096x2160 per display (DisplayPort 1.2)
2560x1600 per display (Dual-link DVI)
2048x1536 per display (VGA)
Bus Interface
PCI Express x16
Mini Display Port
Yes
HDMI
Yes
DVI
Dual-link DVI-I
VGA
No
HD 7970 System Requirement
PCI Express ® based PC is required with one X16 lane graphics slot with 2 slots space available on the motherboard
500W (or greater) power supply with one 150W 8-pin PCI Express power connector and one 75W 6-pin PCI Express power connector recommended
Certified power supplies are recommended. Refer to http://ati.amd.com/certifiedPSU for a list of Certified products
Minimum 1GB of system memory
Installation software requires CD-ROM drive, a keyboard, a mouse, and a display
DVD playback requires DVD drive
Blu-ray™ playback requires Blu-ray drive
February 28th, 2012 at 06:17 am
By Denys
Hi guys!
Waiting for your 7970 IceQ Turbo edition!
February 25th, 2012 at 08:51 am
By Mal4k1as
this graphic card is amazing and extremely fast. RADICAL!!!!
January 19th, 2012 at 04:16 pm
By mrg
please call me mrg thank you. please send to my e-mail the best and new of your products,motherboards,graphics and every thing in fact i love your products, those are great. if i can't buy, but can learn and offer to my friend and other. thank you
January 19th, 2012 at 04:26 am
By WAQAR ALI
hi guys i am 1st who inform u that the HIS legendary AMD RADEON HD7970 28nm 3GB 384bit and Quad hd technological has successfully launched. it is very good news for ever. this card is error free affordable price better heat dissipation excellent cooling design thanks to AMD, ATI and HIS for this product line. extreme level tessellation definition and superb 3d performance. i compared it with Nvidia high end single GPU GF580 in every way and the champ is HD6970. Don't be a fool by Nvidia, just buy his HD7970 card with confidence Recommended by Ex Gamer WAQAR ALI, the HD 6970 is fastest GPU on earth. EX VWD
January 16th, 2012 at 03:02 am
By WAQAR ALI
fastest single G P U card on earth unbelievable and phenomenal performance
January 16th, 2012 at 02:48 am
By WAQAR ALI
Fastest single GPU on earth, seems like never before perfect for graphic acceleration. so be a real intense gamer like KillinGMasTeR
January 12th, 2012 at 02:04 am
By hassan
we waiting for pro cooling
thanks our dear company
January 11th, 2012 at 09:43 pm
By shahid
Amazing Card, eagerly waiting for it in Pakistan, !
January 11th, 2012 at 03:22 am
By Leo
was looking for a version of ICEQ of 7970~~
please make it ASAP~~~
Post your comment
HIS欢迎用户随时发表意见,但为了防止出现垃圾讯息及不相关之内容,HIS编辑会先审查用户的评论!
我们强烈建议用户使用真实姓名,亦请提供电邮地址,以便日后HIS需要与用户跟进情况。用户的资料会予以保密。






HIS has won over 1000 awards with ATI graphic solution from major media worldwide.

iXBT.com "Отличная поставка"

"The HD 7970 is a complete game-changer. It blows almost every other card on the market completely out of the water. With a price about $150 lower than the HD 6990 and the same as the GTX 580, the HIS HD 7970 is definitely worth consideration if you want a bleeding edge gaming system." Overclockers.com "Approved"
"The HIS 7970 does have some interesting features of its own. Partially Resident Textures is a better way of using textures, and involves turning them into smaller pieces so that it's easier for a game to ignore any bits of the texture that won't be seen (and so, therefore, don't have to be drawn, wasting valuable resources)." PC Format / Techradar

"Finally, AMD gives us here a card that is well designed and perfectly suited to the greed of some current 3D engines." Comprtoir-hardware Silver Award

"IT does everything the reference card can but it also has the backing of HIS's quality warranty, support and RMA service." Vortez "Gold Award"

"If you want to get in on the HD 7970 action, you really can't go wrong with the HIS offering today." TweakTown "Editor's Choice Award"


"HIS offer a box which gives our card good protection during shipping and inside is a decent, thorough bundle which adds value to the overall product." Hardware Heaven "Recommended"

"When it works it's unbeatable. It's just not as 'plug and play' as we've come to expect from modern hardware. For this reason we're awarding it our OC3D Performance Award. As a single card the HIS Digital is as good, and Gold worthy, as any other reference HD7970." Overclocker3D "Gold Award"

回上页