HIS 7970 X Turbo 3GB GDDR5 PCI-E DVI/HDMI/4xMini DP (iPower)

产品编号
H797QMGT3G
EAN 编码
4895139007909
散热器
IceQ X²
GPU
7970
芯片时脉
1120 (Boost Clock 1180) MHz
记忆体 时脉
6000 MHz
记忆体
3072 MB
记忆体类别
GDDR5
记忆体介面
384 bit
介面
PCI Express 3.0 x16
显卡大小
31.1 x 15 x 4.2 cm
包装盒大小
22 x 39 x 11.3 cm
Availability

7970 X – The Best of the Best!
X: More Voltage, More Overclocking
The extra PWM phase for core voltage provides extra power stability, lower temperature for power components!
Improved Power Supply Output
Increased Power supply output for more voltage for overclocking!


X: Show and Tell
HIS 7970 X uses LED to show and tell the card's condition, including the voltage, fan speed and critical temperature
Overheat Indicator
The card gives a warning signal to gamers, ensuring safety to the full extent. The single color LED Indicator will turn on when the card's temperature is abnormal, avoiding Critical Temperature Failure!
GPU Voltage Indicator (3 colors)
The card is equipped with GPU Voltage LED Indicator, making it convenient for you to adjust the voltage for overclocking!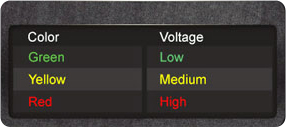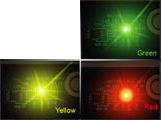 Fan Speed Indicator (5 colors)
The card LED includes the special LED Fan Speed indicator. Gamers could see the actual fan speed represented by different colors!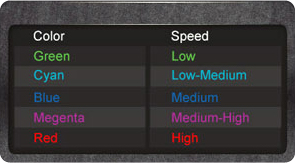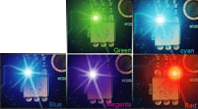 X: Eyefinity 6 , Eyefinity 5 + Eyefinity 3

HIS 7970 X offers ALL Eyefinity setup!
HIS 7970 X supports up to 6 monitors and is EyeFinity 3 ready as well! The card comes with the Mini DisplayPort to Single Link-DVI EyeFinity Adapter with retail value $24.99! Setting up EyeFinity 3 could never be easier!

The card is equipped with 4 Mini Displayports and 1 DL-DVI or SL-DVI plus HDMI at your convenience!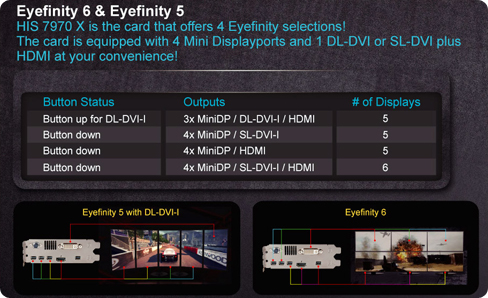 Turbo: HIS OC Graphics Card

Turbo cards are faster than regular cards! The card is bios-overclocked out of the box with 1180MHz / 1120 MHz / 6000 MHz Boost / Core / Memory clock respectively, offering the performance edge for gamers!
| | | |
| --- | --- | --- |
| | HIS 7970 X Turbo | HIS 7970 X |
| Boost Clock | 1180 MHz | 1050 MHz |
| Core Clock | 1120 MHz | 1000 MHz |
| Memory Clock | 6000 MHz | 6000 MHz |
IceQ X² – Cooler, Quieter.


Cooler
With IceQ X², the card is up to cooler than the reference cooler.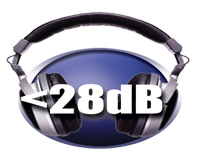 Quieter
IceQ X² is one of the quietest coolers. The card is below 28dB when watching movies, surfing Facebook, working. The card remains quiet whether you are gaming, online socializing, entertaining or working.
Fan Design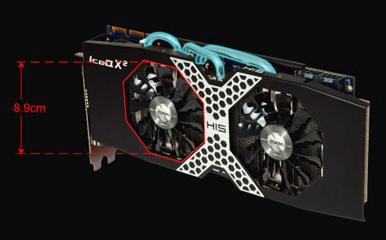 3x 6mm and 2x 8mm wide heatpipes optimize cooling performance by removing heat from the core area.
The super large 2x 8.9 cm dual axial fans draws massive amount of cool air to cool the GPU directly.
The fan is extremely durable with a life span of up to 50,000 hours.
The special fan blade design provides a wide cover to cool opponents in the shortest time!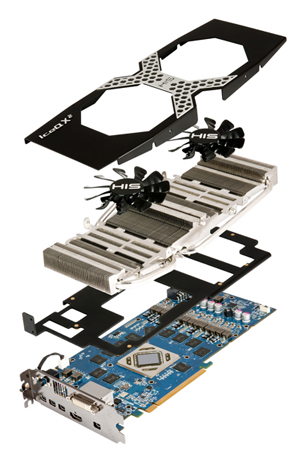 The extra large 40x47.5mm copper heatsink provides a large area to dissipate heat efficiently.
The card also carries memory and mosfet heat sinks to provide extra heat dissipation from these areas.
The card also features fan control and monitoring, you are able to read fan speed & ASIC temperature from iTurbo or other softwares.
iTurbo – Your Graphics Card's Assistant
iTurbo is your graphics card's assistant to control your card to be quiet, cool. Experience overclocking by simply pressing the iTurbo Button!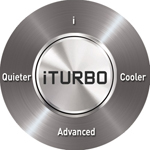 User Friendly Overclocking Software: Cooler, Quieter, OC!
iTurbo's Fan Control and Fan Monitoring allow easy adjustment of your card to its maximum cooling performance or to run your card quietly!
Press iTurbo: OC Right Away!
With the smart auto overclocking function, users can experience a slight performance boost for selected HIS graphic cards with just one click!
Powerful Overclocking Software
Either you wish to unleash its full potential or to make it more environmental friendly, iTurbo is ready for you!
iTurbo is compatible with all cards! Enjoy OC no matter what card you have!
7970 GHz Edition
PowerTune with Boost
The card has the latest PowerTune with Boost technology and you can experience:
• Dynamic Voltage Boost: Boost Clock and voltage vary to optimize performance
• High Accuracy Power Estimation: Improved accuracy enables higher clocks more often.
• Digital Temperature Estimation: Deterministic differetial algorithm reduces overestimation
High Quality Component
OC Equipment
The card is equipped with improved power design which is great for OC! HIS cards utilize Dynamic Phase Control PWM IC to save power for better use. Along with improved power design, GPU Voltage Indicator, digital power design, 2 ounces Copper Layer, HIS cards make the best out of power, carrying better OC capability and pushing clock speeds to the full potential!

Built for CrossFire
The card is armed with 2x Crossfire Connectors and is ready for up to 4-way crossfire multiplied performance!
Voltage Inspector
The card has 5 difference voltage pads for user to monitor the voltage by using multimeter (monitor VDDC, MVDD, VDDVI, 3.3V & 12V)!
Safer, Last Longer
Enhances stability in critical gaming situations!
HIS cards are engineered with the highest standard of safety, preventing them any potential damages. Solid State Choke stabilizes the card and Full Solid State Capacitors ensures the best power quality and enhances the card's stability in critical gaming situations!
Special Metal Rib
PCB might easily warped due to prolonged hanging on motherboard & casing, potentially causing cracks on BGA solder joints and resulting in malfunctioning of the card. The HIS special metal rib provides extra strength to the PCBs to avoid warpage, making the cards extra stable and durable. You can count on HIS cards to game hard for 24/7/365 for years!
Silver (IMS) PCB
The card uses the deluxe Silver (IMS) PCB, making it far more durable and reliable for your every need!
New Technology, New Experiences
GCN
With AMD GCN technology, the card optimizes DirectX® 11.1 gaming performance automatically up to 2.5 times faster! It also offers up to 4.5x compute performance and up to 95% lower GPU Idle Power Consumption!
Apps Faster & Smoother!
The card enables a "quality graphics" experience on everyday applications, giving huge performance boosts on image processing, file compression, media converter apps, and a lot more!
• Handbrake is up to 33% faster in transcoding performance than competing GPUs.
• WinZip 16.5 has 35% faster file compression performance with OpenCL acceleration!
• Gimp 2.8 performance is up to 150% higher than CPU
More Graphics, Less Power!
The new architecture of the card gets more usable processing power for your money, enabling better frame rates in the latest games at high resolutions. In addition, with AMD ZeroCore Power & AMD PowerTune technologies, you can optimize the balance between performance and power consumption of your system by adjusting the engine clock during runtime of the card. Manage the power and keep your wallet loaded!
ZeroCore Power Technology
Greater than 95% idle power reduction byshutting down GPU!
• Powered off during long idle (blanked screen) state
• Core GPU functional blocks consume 0W while rest of PC remains in idle state - fan off for zero noise
PowerTune Technology
PowerTune Technology guaranteeing maximum performance by intelligent GPU Power Management
• Delivers higher performance optimized to the thermal limits of GPU
• Dynamically adjusts clock based on internal calculation of GPU power assessment
• Digital sensor built-in to GPU allows for measurementsin less than 10ms
PCI-e 3.0 Support
Armed with the latest PCI-e 3.0 bus design maximizes performance by delivering double bandwidth per lane of PCI-e 2.x. Paired the card with the latest platforms and get the ultimate performance!
See More, Enjoy More!
The card supports 30" LCD monitor and any large size TV up to 80" feature with 16:9 ratio in amazing 4096 by 2160 resolution. Up-scaling your computer into a multimedia center with the biggest display!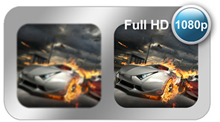 Enjoy HD Beauty
With Full HD 1080p support, the card delivers high q uality 1920X1080 graphics, enabling seamless full-screen video playback. See HD, hear HD and feel HD - Enjoy the beautiful graphics now with the card!
Enjoy Copy Protected Movies
The card is HDCP complaint, enabling users to play copy-protected content, such as commercial DVD movies.
Enjoy True to Life Graphics
Quad HD videos have resolution four times that of current HD videos, meaning images too clear that may deceive your eyes! With the card, you are set for getting the movie theater experience to your home. You may be able to watch a video shooting the Eiffel tower and zoom it in to see your friend's face clearly from the top! Get your eyes impressed and enjoy mind-blowing graphics with extreme clarity, depth and texture!
Win More!
The card is capable to turn your computer into a super gaming machine. Enjoy the latest 3D games with stunning graphics and effects that your enemies cannot match! Get an immersive experience with AMD Eyefinity "2.0"!
Expand your game across up to 5 or 6 displays while your opponents have one monitor. Along with all-new support for stereo 3D, universal bezel compensation and brand new display configurations, take the unfair advantage over your opponent and win more with the surround sight
View More, Work Better
Having one dedicated screen just for twitter or Facebook and a second for outlook is not a dream anymore. The card features 2 Mini-display Ports for enhanced workspace flexibility. You can easily connect to two displays, including the 27" Apple LED Cinema Displays with the two Mini DisplayPorts. The dual-link DVI port allows you connect to a 30" DVI display up to 2560x1600. Resolution can even reach 4096x2160 with HDMI® , good for TV up to 80"!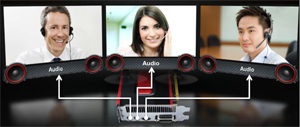 Hear Better in Video Conference
Most GPUs today support only one audio stream at a time. The card, however, has Discrete Digital Multi-Point Audio that can simultaneously output multiple, independent audio streams. Audio seamlessly follows the video, providing affordable multi-display, multi-audio conferencing for consumers!
The card is an ideal solution for all those who rely on having several applications visible simultaneously for extra productivity. Multi-tasking just got a lot simpler! Make your computer a multi-display workstation!
HIS PRODUCTS ADVANTAGE
HIS delivers Faster, Cooler, Quieter plus the best quality product!
Professional customer service and technical support
What's in the box
HIS Graphics Card
Active Mini DisplayPort to SingleLink DVI Eyefinity Adapter
CrossFireXTM Bridge
DVI-VGA Adapter
Weight Lifter
Install CD with Multilingual User Guide
Quick Installation Guide
HIS Power Up Label
Model Name
HIS 7970 X Turbo 3GB GDDR5 PCI-E DVI/HDMI/4xMini DP
Chipset
Radeon HD 7970 PCIe Series
ASIC
RadeonTM HD 7970 GPU
Manu. Process (Micron)
28nm
Memory Size (MB)
3072
Memory Type
GDDR5
Engine CLK (MHz)
1120MHz (Boost Clock 1180MHz)
Memory CLK (Gbps)
6Gbps
Memory Interface (bit)
384
Power Supply Requirement

500 Watt or greater power

Max. Resolution
4096x2160 per display (DisplayPort 1.2)
2560x1600 per display (Dual-link DVI)
2048x1536 per display (VGA)
Bus Interface
PCI Express x16
Mini Display Port
4
HDMI
Yes
DVI
Yes
VGA
No
HD 7970 System Requirement
PCI Express ® based PC is required with one X16 lane graphics slot with 2 slots space available on the motherboard
500W (or greater) power supply with two 150W 8-pin PCI Express power connectors recommended
Certified power supplies are recommended. Refer to http://ati.amd.com/certifiedPSU for a list of Certified products
Minimum 1GB of system memory
Installation software requires CD-ROM drive, a keyboard, a mouse, and a display
DVD playback requires DVD drive
Blu-ray™ playback requires Blu-ray drive
January 27th, 2013 at 01:13 pm
By Jose
I look everywhere and this card is the best, Where I buy this card, because Im looking in all internet pages... and only the companies owner got one for benchmarks...
October 12th, 2012 at 05:45 pm
By Aaron
Hi
THis card rocks !! I had a reference 7970 prior to this loud as and hot .This plays great quiet cold, running eyefinity 3 with 3 display port cables awesome card .Very happy with this purchase can even do 3d eyefinity !!!Thanks .
Aj
Post your comment
HIS欢迎用户随时发表意见,但为了防止出现垃圾讯息及不相关之内容,HIS编辑会先审查用户的评论!
我们强烈建议用户使用真实姓名,亦请提供电邮地址,以便日后HIS需要与用户跟进情况。用户的资料会予以保密。






HIS has won over 1000 awards with ATI graphic solution from major media worldwide.

"The HIS 7970 X Turbo IceQ is the fastest out-of-the-box 7970 avalible with excellent stock speeds yet with room enough to overclock even higher. The cooler is absolutely fantastic with strong performance and low noise during my testing and gaming."
"Pros
• Superb performance out of the box.
• Excellent cooling solution.
• Good overclocking/Voltage unlocked."
OverClockers.com - Performance Award
"Так что за звук можно поставить пятерку."
"Компания HIS в очередной раз порадовала геймеров-хардкорщиков. Мало того что видеокарта имеет заводской разгон, который более чем на 10% опережает дефолтную производительность, так еще и собственная система охлаждения не будет пугать домашних завываниями при включении высокого качества картинки в играх." Железо

"Pros :
- Built quality
- 18 PWM phase
- OC card
- Performance in game
- Video outputs
- Can be even more OC" Pc Video - OC Award

"The HIS Radeon HD 7970 X Turbo comes with a larger overclock out of the box than any other custom design HD 7970. That improvement nets the card a 6% performance advantage over AMD's HD 7970 GHz Edition reference design. This makes the card 10% faster than the GeForce GTX 680, which is NVIDIA's fastest single-GPU graphics card." TechPowerUp - Highly Recommended Award

"лидер среди всех 7970, да и более того, это самый быстрый на сегодня однопроцессорный ускоритель в мире" iXBT.com Оригинальный дизайн
"There's absolutely no denying that the HIS Radeon HD 7970 3GB X Turbo is a desirable card. It's quite possibly the fastest single GPU card available, and certainly the fastest we've ever seen, as it trumped the GTX 680 2GB in nearly all of our benchmarks. It also features excellent connectivity and a cooling system that strikes a wonderful balance between staying cool and quiet." Bit-Tech
"Суммарное число фаз - восемнадцать штук, что делает из HIS 7970 X IceQ X2 Turbo чемпиона-многоборца."
"Если взять и посчитать максимальную силу тока, которую обеспечивает такая схема, то хватит еще на пару плат без систем питания."
"...система охлаждения HIS является самой тихой."
"Учтите, что частота работы видеоядра у HIS - рекорд для видеокарт класса HD 7970, равный 1180 МГц. А 70 с небольшим градусов по Цельсию - результат, заслуживающий хорошего отзыва."
"Никто до сих пор не решился сделать продукт с графическим процессором, работающим почти на 1.2 ГГц. А в HIS смогли не только разогнать ядро, но и не забыть про память и систему питания." Overclockers.ru

"The card itself is a really smart affair, with the cooler looking particularly cool (haha!), if a little on the long side at 297mm. The addition of the LED indicators (Fan Speed, Voltage & Overheat) is also welcome, with the Fan Speed indicator being the most useful.

Then of course we have the performance which out of the box at stock speeds (Core: 1050Mhz / Mem: 6000MHz) is very good, overclocked further to (Core: 1200MHz / Mem: 6400MHz) the card really begins to shine..." pcGameware - Silver Award

"The card looks great, the cooling is more than sufficient, though not 100% silent. Vastly impressive is the 1180 MHz boost frequency though, I have not seen any manufacturers do these kinds of clock frequencies at all. And then the extras like the custom PCB, the funky LEDs that monitor GPU Voltage and FAN RPM etc, it's just a really cool product." Guru3D - Recommended Product

"The HIS 7970 X IceQ X² is a very impressive card, and if you want top shelf performance and the ability to game across several displays, then it's an outstanding option." PureOverclock - Editors Choice
「此次HIS出品的这款HD7970,无论是做工用料,还是性能表现,都达到了超一流的水准,而发挥全部实力的大溪地核心实力果然惊人,虽然跑分和GTX680旗鼓相当,但在游戏测试环节已经毫无悬念的取得了胜利。不管是一键超频的设计还是超频软件的支持,对于追求极限的发烧友来说,这款显卡具备了他们期望的所有功能。」 PCPOP

" The card is not only fast, but very fast! It is faster than other HD7970! The HIS card can handle heavy tasks faster and quieter and therefore, we award it the "Best Buy Item"! " Tom's Hardware - Best Buy Award
"Суммарное число фаз - восемнадцать штук, что делает из HIS HD 7970 Turbo X чемпиона-многоборца."
"Если взять и посчитать максимальную силу тока, которую обеспечивает такая схема, то хватит еще на пару плат без систем питания."
"...система охлаждения HIS является самой тихой."
"Учтите, что частота работы видеоядра у HIS - рекорд для видеокарт класса HD 7970, равный 1180 МГц. А 70 с небольшим градусов по Цельсию - результат, заслуживающий хорошего отзыва." Overclockers.ru

"The HIS 7970 X Turbo 3GB IceQ X2 is a great looking graphics card with no shortage of performance, an ideal solution for powering games across three screens at 5760×1080 or higher in Eyefinity.

While the card consumes a lot of power at the socket, the twin fan cooling solution doesn't emit an excessive amount of noise, and temperatures are maintained below 70c when gaming." KitGuru - Must Have Award

"HIS has put together an awesome version of the new HD 7970 GHz Edition that is able offer some truly awesome performance from a single GPU setup...it is truly an amazing video card. Overall TweakTown Ratin 98%" TweakTown "Editor's Choice Award"

回上页