HIS 7750 IceQ 1GB GDDR5 PCI-E DVI/HDMI/VGA

产品编号
H775Q1G
EAN 编码
4895139008241
散热器
IceQ
GPU
7750
芯片时脉
800 MHz
记忆体 时脉
4500 MHz
记忆体
1024 MB
记忆体类别
GDDR5
记忆体介面
128 bit
介面
PCI Express 3.0 x16
Availability
iTurbo


It is not good for the graphics card to be alone. Hardwares and softwares are made for each other. iTurbo is your software assistant to control your graphics card to be quiet, cool and experience overclocking by simply pressing the iTurbo Button!

User Friendly Overclocking Software: Cooler, Quieter, OC!
iTurbo's Fan Control and Fan Monitoring allow easy adjustment of your card to its maximum cooling performance or to run your card quietly!

Press iTurbo: OC Right Away!
With the smart auto overclocking function, users can experience a slight performance boost for selected HIS graphic cards with just one click!

Powerful Overclocking Software
Either you wish to unleash its full potential or to make it more environmental friendly, iTurbo is ready for you!

iTurbo is compatible with all cards! Enjoy OC no matter what card you have!
High Quality Components



HIS uses only the finest materials and the most advanced techniques to build our cards, making them one of the most stable and durable product in the industry. The card is engineered with the highest standard of safety, preventing them any potential damages.
New Technology, New Experiences


GCN

With AMD GCN technology, the card optimizes DirectX® 11.1 gaming performance automatically up to 2.5 times faster! It also offers up to 4.5x compute performance and up to 95% lower GPU Idle Power Consumption!
Apps Faster & Smoother!

The card enables a "quality graphics" experience on everyday applications, giving huge performance boosts on image processing, file compression, media converter apps, and a lot more!

• Adobe photoshop CS6
• Corel Winzip 16.5
• Musemage
• Handbrake
• MotionDSP Vreveal
• GIMP
• Cyberlink Power Director
• ArcSoft Media Converter

PCI-e 3.0 Support
Armed with the latest PCI-e 3.0 bus design maximizes performance by delivering double bandwidth per lane of PCI-e 2.x. Paired the card with the latest platforms and get the ultimate performance!
More Graphics, Less Power


Low Power Consumption
You do not have to worry about having the proper power connection from you power supply. No external power is needed and power is supplied through the card slot. The card requires only 400W power supply. Just plug the card in and enjoy the superb graphics experiences!

Optimized Power & Performance
The new architecture of the card gets more usable processing power for your money, enabling better frame rates in the latest games at high resolutions. In addition, with AMD PowerPlay™ & AMD PowerTune technologies, you can optimize the balance between performance and power consumption of your system by adjusting the engine clock during runtime of the card. Manage the power and keep your wallet loaded!
Game Better & Faster


Game Better & Faster
With full Microsoft DirectX® 11.1 support, the card is ready for next generation DirectX games. Equipped with AMD HD3D technology, you can enjoy a stereo 3D experience in the latest 3D games. The card also offers up to 2x faster tessellation and faster DirectCompute over earlier cards. Gamers will be pleased to enjoy the life-like graphics!

List of approved monitors for AMD HD3D Technology:
• Samsung SA700
• Samsung SA750
• Samsung TA950
• Samsung SA950
• Samsung TA 750
• LG D2342P
• LG D237IPS

Sounds Better
Output protected high bit rate 7.1 channel surround sound over HDMI with no additional cables required, heightening the sense of reality!
See Better, Enjoy Better!

Enjoy HD Beauty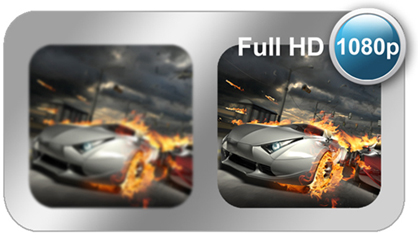 With Full HD 1080p support, the card delivers high quality 1920X1080 graphics, enabling seamless full-screen video playback. See HD, hear HD and feel HD - Enjoy the beautiful graphics now with the card!

Enjoy Copy Protected Movies
The card is HDCP compliant, enabling users to play copy-protected content, such as commercial DVD movies.
HIS Products Advantage
HIS delivers Faster, Cooler, Quieter plus the best quality product!
Professional customer service and technical support
What's in the box
HIS Graphics Card
Install CD with Multilingual User Guide
Quick Installation Guide
HIS Power Up Label
HIS 7750 System Requirements
PCI Express® based PC is required with one X16 lane graphics slot available on the motherboard
400W (or greater) power supply recommended.
500W power supply (or greater) recommended for AMD CrossFire™ technology in dual mode
Certified power supplies are recommended. Refer to http://support.amd.com/us/certified/power-supplies/Pages/listing.aspx for a list of Certified products
Minimum 1GB of system memory
Installation software requires CD-ROM drive
DVD playback requires DVD drive
Blu-ray™ playback requires Blu-ray drive
Model Name
HIS 7750 IceQ 1GB GDDR5 PCI-E DVI/HDMI/VGA
Chipset
Radeon HD 7700 PCIe
ASIC
RadeonTM HD 7750
Manu Process (Micron)
28nm
Memory Size (MB)
1024
Memory Type
GDDR5
Core CLK (MHz)
800MHz
Memory CLK (Gbps)
4.5 Gbps
Memory Interface (bit)
128bit
Power Supply Requirement

400 Watt or greater power

Max. Resolution
2560x1600 per display (Dual-link DVI)
2048x1536 per display (VGA)
Bus Interface
PCI Express 3.0 x16
Mini Display Port
No
HDMI
1
DVI
1
VGA
1
February 1th, 2013 at 09:04 pm
By Muhammad iqbal Nurohman
satisfy with this product, less power, cool, and make my cable management look clean, because use less power than my previous GPU, HD 6670
Post your comment
HIS欢迎用户随时发表意见,但为了防止出现垃圾讯息及不相关之内容,HIS编辑会先审查用户的评论!
我们强烈建议用户使用真实姓名,亦请提供电邮地址,以便日后HIS需要与用户跟进情况。用户的资料会予以保密。





HIS has won over 1000 awards with ATI graphic solution from major media worldwide.

"Advantages:

- Good overclocking graphics;
- Excellent overclocking potential of video memory;
- Productive and quiet cooling system;
- Reasonable price;
- Convenient set of interfaces for output." EasyCOM - Optimal Price / Opportunity

回上页