HIS R9 280 IceQ X² OC 3GB GDDR5 PCI-E DLDVI-I/HDMI/2xMini DP

产品编号
H280QMC3G2M
EAN 编码
4895139009644
散热器
IceQ X²
GPU
R9 280
芯片时脉
Up to 847 (Boost Clock Up to 953) MHz
记忆体 时脉
Up to 5000 MHz
记忆体
3072 MB
记忆体类别
GDDR5
记忆体介面
384 bit
介面
PCI Express x16 (PCI Express 3.0)
显卡大小
29.7 x 14.3 x 4.4 cm
包装盒大小
39.8 x 23.8 x 8.2 cm
产品重量(连包装盒)
1.6 kg
Availability
IceQ X²冰立方 – 更冷、更静

更冷
显卡的IceQ X²冰立方散热器, 超凡的散热性能让显卡比公板更冷。


更静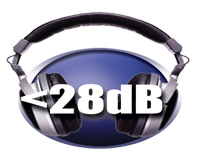 IceQ X²冰立方上其中一款最安靜的散熱器。独特先进的设计,比公版散热器更静。散热器提供超级安静的环境,在浏览网页丶照片丶QQ、查看电邮或观看电影噪音少於28分贝。

风扇设计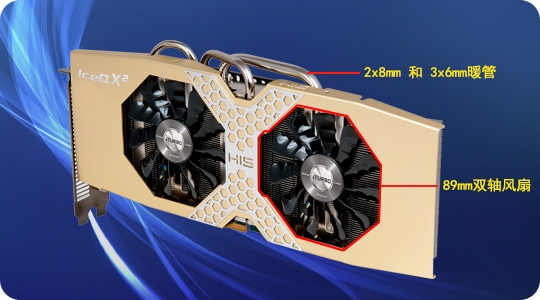 特大的双 8.9 cm风扇能抽取大量冷气,直接冷却核心。风扇拥有50,000小时特强寿命,加倍耐用。
特别设计的风扇扇叶提供更宽阔的散热范围,加强冷却效能!
三根6mm及兩根8mm的 超宽铜热管从核心区域带走热空气,散热效果显着!
特大的40x47.5mm铜散热器,扩大散热范围,效果超卓。
显卡另有显存及Mosfet散热器,加强在这些部分的散热。
显卡的风扇及ASIC温度可自行监控,方便自行在iTurbo或其它软体调较温度及风速。
OC 更快!

显卡拥有最新OC技术,核心频率及Boost Clock频率達到847MHz及953MHz,为最吃资源的游戏及程式提供更高的频率,更强大的性能!
安全设计: 更安全丶更耐用!
双Bios
拥有双Bios,确保显卡顺利运行。若预设Bios出现状况,用家可随寺切换至第二Bios。

提高稳定度
HIS显卡做功出色,达到最高安全标准。HIS显卡配备先进的SSC固态电感丶全固态电容,可提升稳定度和延长显卡的寿命。加上其他高素质元件,应付狂热游戏玩家的需求绰绰有馀!

金属骨架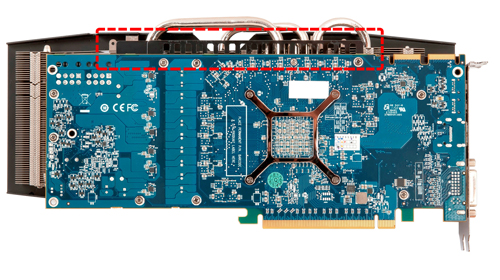 PCB长时间悬挂在主板上,容易扭曲变形,出现细小裂缝,导致运作不良。HIS特制的金属骨架,大大强化PCB,防止变形,使用家可以用HIS显卡日以继夜的疯狂游戏!
超频元件
HIS显卡采用先进的多相动态相位控制PWM IC,配合数字电源设计,2盎司铜层等,充份运用显卡性能,令显卡可有更大的承载和超频能力,让超频用家发挥到极致!
支持交火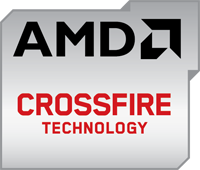 显卡备有1个交火接口,准备用家进行最多2相交火,让性能倍升。

iTurbo 您的显卡助手!
没有软件的裸机是一具僵尸,而没有硬件的软件则是一个幽灵。硬件和软件是互相依赖、互相促进的。iTurbo是您的显卡助手,让显卡安静丶冰冷,让你一按便可感受超频带来的快感!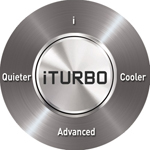 方便易用的超频软件: 更冷,更静,更超频!
iTurbo可调较和监控显卡风扇转速,无论想要极致的散热性能,或是最安静的环境,你也可以轻松办到。

一按即超!
智能自动超频功能,让你用HIS特选显卡时,只要一按便感受到显卡性能的提升。

强大超频软件
想激发显卡的所有潜能,或是让显卡更节能环保,iTurbo都为你准备就绪!

iTurbo适用於任何显卡! 无论您拥有哪张卡都能享受超频带来的快感, 助您在数字世界中看得更好!
新技术,新感受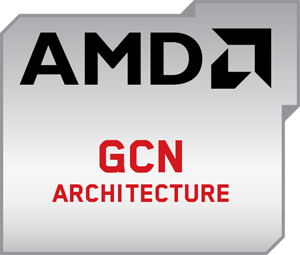 GCN架构
配备AMD第二代的GCN架构,显卡在运算效能快4.5倍丶DirectX® 11.2游戏的曲面细分快2.5倍丶使用功耗则低95%!
程式更快更顺畅!
显卡带给用家优质的图像享受,延伸到各种不同的程式,包括加强图像软体的处理能力和运算,加快档案压缩,加快媒体和式转换等等!
• Adobe Photoshop CS6
• Corel Winzip 16.5
• Musemage
• Handbrake
• MotionDSP Vreveal
• GIMP
• Cyberlink Power Director
• ArcSoft Media Converter
AMD TrueAudio 技术




在游戏中听到更实时的声音及声道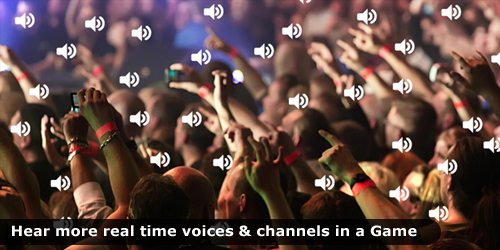 在任何输出下达到惊人的定向音频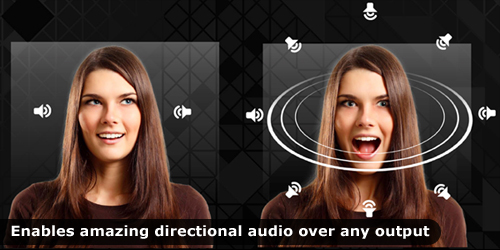 AMD Eyefinity
可不用任何主动式的 DisplayPort适配器, 在3个显示器设置Eyefinity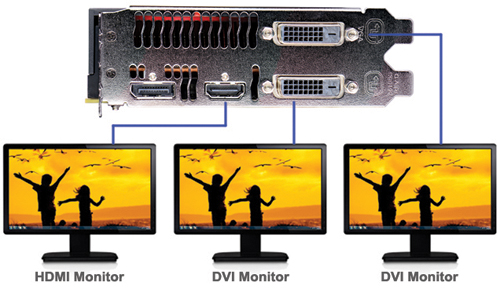 PCI-e 3.0 Support
支持最新PCI Express 3.0 x16总线接口,提供比上一代PCI Express 2.x多一倍的带宽,只要配合相关系统,便可全面倍升显卡性能,感受极致的性能!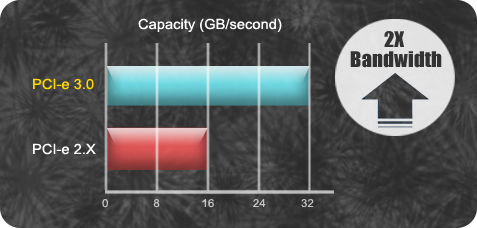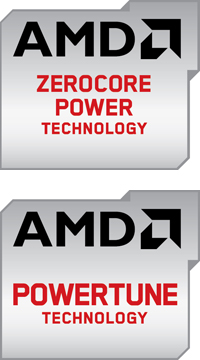 更低功耗,更高性能!
显卡全新的设计及体系结构使显卡能更有效地运算,全方位的提高帧率,同时替用家节省电费。此外,先进的AMD PowerPlay™ 及 AMD PowerTune 电源管理技术,能将显卡的功耗控制在用家想达到的功耗范围内,确保帧率的同时减少耗电,达到节能丶节电,省钱的效果!
画质更高, 享受更好
显卡的最高分辨率为4096 x 2160可支持30" LCD屏幕及80"特大电视屏幕,令您的计算器摇身一变成为超级多媒体中心。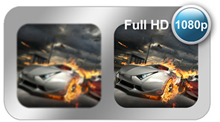 享受高清之美
显卡支持双流高清(1080p)视频播放,呈现1920×1080像素的高清影像,观看丶细听丶感受高清带给您完美无暇的画质!
享受受版权保护电影
支持HDCP,用家可播放高带宽数码内容保护的影音,包括DVD电影。
支持四倍高清
四倍高清在市场上尚未普及,但显卡却准备就绪。显卡全面支持3GHz HDMI 1.4a 及DisplayPort 1.2 HBR2,让用家随时可应付四倍高清的需要。
看得更多,赢得更多!
显卡可让计算器成为狂热游戏玩家的最佳武器,令玩家以更完美的图像效果,体验最新的三维 立体游戏! 连接多台显示器,获得更多画面! AMD宽域技术"2.0"可同时支持3台独立显示器的输出,比上一代拥有更多的视频叠加模式丶更具弹性的边框补偿等等,可实现广阔的桌面工作空间和最身临 其境的视觉环境,使您获得极致全景计算体验。这不公平的优势,助您在残酷的游戏世界内,轻松战胜对手。
画面更多,工作更佳
有没有想让一台显示器专门负责电邮,同时间另一台在浏览网页? 显卡备有DisplayPort接口,让你轻易扩大画面,连接苹果27"LED Cinema Displays的显示器。另外,显卡的双连接DVI接口让你连接30"的DVI显示器,最高支持2560X1600的分辨率。用家更可以使用显卡的HDMI 1.4a接口连接80"大电视,享受分辨率4096X2160的特大画面。
声道更多,视像会议更佳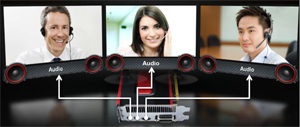 现今大多数的显卡核心只支持单声道。这张显卡却拥有数字多点音频,支持同时输出多个声 道,提供用家高性价比的选择,进行多屏,多声道视像会议。
显卡提高用家的工作效率,是需要多屏工作或多屏视像会议的用家之理想选择,将用 家的计算器成为多屏工作伙伴!
HIS产品特点
HIS专注研发更高素质丶更快丶更冷丶更静的显卡,多个获奖的新颖产品使HIS在市场上得到公认
提供卓越服务质素及技术支援
包裝清單
HIS 显卡
DVI-I转VGA适配器
安装光盘与多语言用户指南
快速安装指南
HIS Power Up 标贴
产品名称
HIS R9 280 金立方OC版 3GB
核心系列
AMD Radeon R9 280

显存容量 (MB)
3072
显存类型
GDDR5
核心频率 (MHz)
847 (Boost Clock 953)

显存频率 (Gbps)
5000
显存位宽 (bit)
384
电源供应
推荐使用750瓦或以上的电源
双模式 AMD CrossFireX™ 技术应使用1000瓦

最高分辨率 (每台显示器)

DisplayPort 1.2 - 4096x2160
HDMI - 4096x2160
带HDCP的集成双链路DVI - 2560x1600
接口类型
PCI Express 3.0 x16

接口
DLDVI-I + HDMI + 2x Mini DisplayPort
Post your comment
HIS欢迎用户随时发表意见,但为了防止出现垃圾讯息及不相关之内容,HIS编辑会先审查用户的评论!
我们强烈建议用户使用真实姓名,亦请提供电邮地址,以便日后HIS需要与用户跟进情况。用户的资料会予以保密。





HIS has won over 1000 awards with ATI graphic solution from major media worldwide.

PC Game Hardware - Budget Tipp Award


"It's below the shroud where all the magic happens, and it is magic that happens indeed.

The cooling numbers the card puts out are fantastic; especially when you consider the extra voltage that is being run through the card with the higher core clock.
You can see that core overclocking was very successful."

TweakTown – Best Overclocking Award, Rating 92% out of 100%
"The card has over its GeForce competitors is the fact that it makes use of 3 GB VRAM and a 384-bit bus interface which does impact performance when moving onto higher resolution displays. IceQ X² is one of the quietest coolers, making the card quieter than the reference cooler. The card is below 28dB when watching movies, surfing Facebook, working. The card remains quiet whether you are gaming, online socializing, entertaining or working.

It should be noted that the non-reference design allows for more stability and much improved overclocking support than the reference variant. For cooling, the HIS Radeon R9 280 IceQ x2 uses two 89mm dual axil fans that tend to get loud under load but are specifically designed to push lots of air into the heatsink so that the card stays cool even under massive loads and overclocked conditions. The Q&C fan blade increases air velocity make cooling more efficiently while keeping noise level at minimum.

HIS cards are engineered with the highest standard of safety, preventing them any potential damages. Solid State Choke stabilizes the card and Full Solid State Capacitors ensures the best power quality and enhances the card's stability in critical gaming situations! The HIS special metal rib provides extra strength to the PCBs to avoid warpage, making the cards extra stable and durable. You can count on HIS cards to game hard for 24/7/365 for years!"

WCCFtech - Scored 8 out of 10

"The cooler is incredibly quiet and keeps the GPU in the extremely safe temperature range, even when overclocking. Saying this cooler leaves the reference cooler in the dust would be a serious understatement. The GPU comes packaged to perfection. If someone was going to hurt this GPU in transit, they would have to be playing hacky sack with the box!
Moving on to pricing, the R9 280 has an MSRP of $249 from AMD, and HIS brought this card in at $259 MSRP. Very nice pricing to get such a great cooler. Currently on Newegg it's on sale for $249, which gets you upgraded cooling for AMD's MSRP.
Don't forget that this GPU also can take advantage of Mantle, AMD's technology that was implemented into Battlefield 4. If extra performance in Mantle-enabled titles is something that suits your usage, then perhaps this could sway your decision toward this GPU. Mantle or not, the HIS R9 280 IceQ X2 performs admirably, runs cool and quiet, and does so at a great price point. "
Overclockers - "Approved"

HIS Radeon R9 280 IceQ X² OC GameStar Award – Scored 81 out of 100

HIS has succeeded to transform it into a great deal for the second time, by including the proven two-slot cooling system which is equipped with two 89mm silent fans. Through the heatsink fins we will find no less than five heatpipes, which keep the GPU plate nice and cool during heavy load.
Talking about the overclocking capabilities, we would like to remind again that the product features a mild overclock, but with the help of the iTurbo utility we have succeeded to surpass the performance of the 7970 GHz Edition. The total of 3GB graphics memory allow the card to perform admirably even at resolutions over Full-HD but be careful when setting the detail levels since we will often drop under 60FPS while using resolutions of 2560x1440 or 2560x1600.
Madshrimps.be - Recommended Value Product

"HIS R9 280 IceQ X2 Turbo is very good and quality product, super quite, and low temperatures"
Overclockers - Editors Choice Best Quality Award


"Pros:
- Excellent performance
- Preoverclocked
- Quality components
- Digital power system
- Good performance and quite cooling system IceQ X2
- Very good overclocking potential"
EasyCom - The Choice of Overclockers


Pros
-Unique styling
-Excellent temperatures
-Low noise
-Strong gaming value
-Well priced
"It's got strong performance and got all of AMD's new features here, including support for OpenGL, DirectX11.2 and the Mantle API. You also get 1080p gaming at high settings and of course the 4K UltraHD gaming and movie capabilities. This card runs wonderfully cool and quiet, and for $260, you really can't go wrong."
Overclock - Great Hardware Award

"The Radeon R9 280 is the Tahiti Pro aka Radeon HD 7950 being re-spun. HIS did a terrific job though, nice clocks frequencies, custom PCB and cooler and a little extra tweaking room makes this one of the better 280 cards currently available. Anyone with a monitor up-to 1920x1080/1200 will see good performance with the latest games available whilst applying harsh image quality settings as well and at 2560x1440 you are still good to go albeit you will have to forfeit on AA or image quality settings with the latest titles. If you can spot this product for roughly 200 EUR then we feel it's a really nice deal that we can recommend very much. The HIS Radeon HDR9-280 IceQ X² OC is a little big in size though, but the cooling performance is great, the noise levels very low, in fact silent
Summed up - Any game will play at a resolution of 1080P perfectly fine with proper image quality settings. Even 2560x1440 is in reach. Aside from cooler and its great performance added benefits are the factory overclock, the four display outputs and overall just a really nice product that will guarantee you a pleasant gaming experience as these cards have plenty of performance to work with.
You can pick up the product for 279 USD, and you'll receive 150 USD worth of free games from the Never Settle Forever bundle to choose as well. Good deal.
Definitely recommended by Guru3D.com"
Guru3D - Guru3D Recommended Award

回上页